No-one should ever miss a concert because they didn't know it was happening
Ushaw Jazz Festival day 2
Event Navigation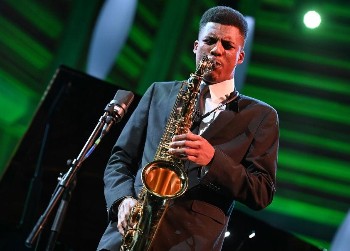 1pm Jo Harrop and Paul Edis
£10 – Francis Thompson Room
Book tickets
Described as a "velvet voiced" singer, Jo is a rising star in the UK and in Europe. She joins pianist Paul Edis and Andy Champion (double bass) and Russ Morgan (drums) to perform swinging music rooted in the straight-ahead tradition.
2pm Improvisation Workshop with Matt Anderson
£10
*For musicians aged 18 and above looking to learn more about improvisation*
Saxophonist Matt Anderson teaches at the Junior Royal Academy of Music, London, University of Leeds and Leeds College of Music and works regularly with adult learners and community organisations including Jazz at HEART and Cambridge Jazz Co-operative.
To take part in the workshop please bring anything you'll need to perform. A PA for singers and a piano will be provided. Any sheet music and resources will be provided but it's worth bringing a notepad and pencil. 
The workshop runs from 2-5pm with a public performance at 5:30pm. Places limited – book now by email to meet@ushaw.org with details of your instrument and any prior experience.
4pm Xhosa Cole/Francis Tulip Quintet
£8 – Exhibition Theatre
Book tickets
Led by BBC Young Jazz Musician of the year Xhosa Cole alongside the prodigiously talented Durham-born guitarist Francis Tulip, this quintet pays homage to the jazz tradition, including the influences of Thelonious Monk and John Coltrane alongside inventive contemporary original compositions.
Xhosa Cole – tenor, Francis Tulip -guitar, Will Markham- piano, Shivraj Singh- bass, Kai Chareunsy – drums
6pm Matt Anderson and Paul Edis
£6 – Francis Thompson Room
Originally hailing from the north Yorkshire moors, London-based saxophonist and Dankworth Prize-winning composer Matt Anderson released his second critically-acclaimed album Rambling last year. Rooted in a deep love of and respect for the jazz tradition from Sonny Rollins to Wayne Shorter, Matt's music explores influences from the folk music of his rural upbringing, alongside bluesy, country elements reminiscent of Bill Frisell and British and European jazz.
In recent years Matt has worked regularly with pianist Paul Edis performing as a duo, as guest soloist/tutor with Sage Gateshead's youth jazz ensemble Jambone and as part of 'A Jazzy Christmas'.
8pm – Tony Kofi and the Organisation
£14/12 – Exhibition Theatre
Tony Kofi is a British jazz multi-instrumentalist born of Ghanaian parents, a player of the alto, baritone, soprano and tenor saxophones and flute. The origins of the Organisation go back over a decade and grew from Simon Fernsby's memorable Manhattan Project sessions which were a staple of jazz in South London throughout the 2000s. The musicians have played a long game, developing their craft and style on the UK jazz circuit and the sounds you will hear are the sounds of a band who have put the hours in and held an ace in their collective hand until the moment to play it was just right.
10pm Jam Session
FREE
All are welcome to bring an instrument and join in with the house trio of Paul Edis (piano) Paul Grainger (double bass) & Russ Morgan (drums) until midnight, or alternatively, come along to hear who might get up to perform. The jam session at the Ushaw Festival has produced some of the most interesting and unexpected combinations in recent years.
Day and weekend passes for Ushaw Jazz Festival are available as follows:
Weekend ticket: £60
Saturday Day Pass: £30
Sunday Day Pass: £20
For more information about any events listed here, please follow the event links to contact the organisers directly. I take no responsibility for the accuracy of events listed here, etc. but if there's an error, please let me know.
Click here for details of how to send concerts for inclusion on this page