No-one should ever miss a concert because they didn't know it was happening
Longings and Lamentations
Sat 29 Feb , 7:30 pm
|
£10
Event Navigation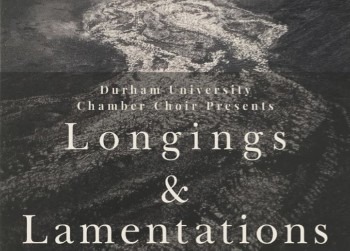 Durham University Chamber Choir, directed by Marcello Palazzo.
Music tinged in the light of love or pain, and sometimes both, from the twelfth century Pérotin and Hildegard Von Bingen to contemporary including such as Thomas Adès, and Pawel Lukaszewski. The crowning piece of the evening is James MacMillan's astonishing O Virgo prudentissima, an appeal to the Virgin Mary to guard us and dispel gloom from our minds, the same way that a star of the sea navigates a boat through turbulent waters, and uncovers its sanctuary through salvation – with highly virtuosic music that vividly paints the rough waves and the serene starry sky.
The concert will take place in the Chapter House of Durham Cathedral.
Tickets £10, concessions £8, available from Durham University Music Society via the link below.
For more information about any events listed here, please follow the event links to contact the organisers directly. I take no responsibility for the accuracy of events listed here, etc. but if there's an error, please let me know.
Click here for details of how to send concerts for inclusion on this page