No-one should ever miss a concert because they didn't know it was happening
Elijah
Thu 12 Mar , 7:30 pm
|
£10
Event Navigation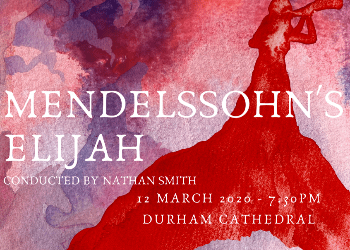 Felix Bartoldy Mendelssohn: Elijah
Elijah: Alexander Lee
Tenor: Nathanael Thomas-Atkin
Alto solos: Sophie Horrocks, Emily Beringer, Sarah Pierce
Soprano solos: Hannah McKay and Emma Burke
Conductor Nathan Smith
With Durham Opera Ensemble and Durham University Choral Society
Felix Mendelssohn's oratorio Elijah sets scenes from the life of the Old Testament prophet, including a battle with the priests of Baal to see whose god is the most powerful, an encounter with an angel, and Elijah's whirlwind ascent into heaven in a fiery chariot, with highly dramatic choruses, and sublime solos, including the famous 'O rest in the Lord'.
Tickets: £10, concessions £8, available online from Durham University Music Society via the link below
For more information about any events listed here, please follow the event links to contact the organisers directly. I take no responsibility for the accuracy of events listed here, etc. but if there's an error, please let me know.
Click here for details of how to send concerts for inclusion on this page