Obviously there are no live concerts happening at the moment, and with the current uncertain situation, we have no way of knowing when things will start up again.
In the meantime, stay safe, stay happy and I hope you can find ways to keep music in your life. I can't wait to see everyone back at concerts again.
No-one should ever miss a concert because they didn't know it was happening
Durham Cathedral Organ Scholars
Sat 14 Dec 2019 , 2:00 pm
|
Free
Event Navigation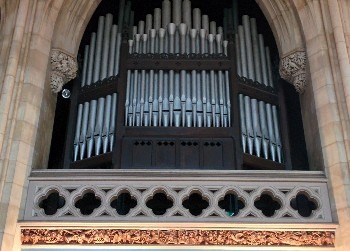 Durham Cathedral Organ Scholars Imogen Morgan and Oliver Morrell give a joint recital of organ classics and Christmas favourites,
J. S. Bach Pièce d'Orgue, BWV 552
Louis-Claude Daquin Noël Suisse
J. S. Bach Prelude and Fugue in G minor
John Ireland Miniature Suite
I. Intrada
II. Villanella
III. Menuetto – Impromptu
John Ireland The Holy Boy 
Alan Gray Christmas Fantasia
Anderson arr. Trotter Sleigh Ride
Various arr. Bölting Suite on Famous Christmas Carols
Joy to the World
Hark! The Herald Angels Sing
The First Noel
Free entry, with retiring collection
Part of the Edwin Bonney Organ Recital Series
For more information about any events listed here, please follow the event links to contact the organisers directly. I take no responsibility for the accuracy of events listed here, etc. but if there's an error, please let me know.
Click here for details of how to send concerts for inclusion on this page