Obviously there are no live concerts happening at the moment, and with the current uncertain situation, we have no way of knowing when things will start up again.
In the meantime, stay safe, stay happy and I hope you can find ways to keep music in your life. I can't wait to see everyone back at concerts again.
No-one should ever miss a concert because they didn't know it was happening
Monteverdi 1610 Vespers
Sun 2 Feb , 7:00 pm
|
£28
Event Navigation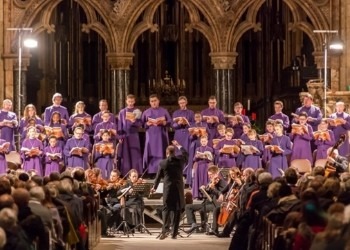 Durham Cathedral Choir and period orchestra The Avison Ensemble bring the Christmas season to a glittering close at Candlemas as they perform Monteverdi's glorious 1610 Vespers for the Blessed Virgin.
Conductor: Daniel Cook, Leader: Pavlo Beznosiuk
Tickets:
Front nave £28 / concessions £24
Rear nave £22 / concessions £18
Font £20 / concessions £16
Side aisles £10 / concessions £8
Available online from the link below or from Durham Cathedral Information Desk by phone on 0191 338 7178 or in person (Monday to Saturday 9.30am–4.30pm, and Sundays between 12.30–4.30pm).
For more information about any events listed here, please follow the event links to contact the organisers directly. I take no responsibility for the accuracy of events listed here, etc. but if there's an error, please let me know.
Click here for details of how to send concerts for inclusion on this page