No-one should ever miss a concert because they didn't know it was happening
New Sounds | Nordic Spaces
Wed 19 Feb , 7:30 pm
|
£10
Event Navigation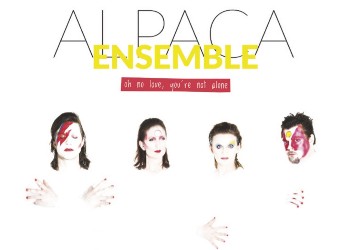 Contemporary music specialists from Norway, Alpaca Ensemble, perform works by Nordic composers
Sigrid Elisabeth Stang violin
Marianne Baudouin Lie cello
Else Bø piano
Rolf Borch clarinet
Espen Aalberg percussion
Ole Jørgen Melhus trombone
Programme
Karin Rehnqvist – In Orbit
Eric Skytterholm Egan – in Motion
Kristin Bolstad – Let Me Be
and a work from MUSICON's call for scores
Music  that in some way or other reimagines the space of the concert hall. Each of the pieces on the programme was written for the group, with whom the composers worked closely throughout the creative process, including a new work from MUSICON's anniversary call for scores. Rehnqvist's In Orbit is a stunning sonic tour-de-force that combines the most lyrical and beautiful melodies with their distorted counterparts; the performers play in a series of different positions, exploring the acoustic of the room as they move through the work. Bolstad's Let me Be is a compelling choreography of movement and sound; here it is the instruments, rather than the performers themselves that move. Durham composer Eric Skytterholm Egan's work sees the cellist as the centre of an abstract mechanical clock, gradually winding up the ensemble and setting it into motion.
There will be a pre-concert talk with composers and performers at 18.45
Tickets: £10, Students £4, Under 18s £1 available from Durham World Heritage Site Visitor Center, Owengate, or online via the link below.
For more information about any events listed here, please follow the event links to contact the organisers directly. I take no responsibility for the accuracy of events listed here, etc. but if there's an error, please let me know.
Click here for details of how to send concerts for inclusion on this page