No-one should ever miss a concert because they didn't know it was happening
Opera by the Lake with Sir Thomas Allen
Sat 22 Feb , 6:30 pm
|
£20
Event Navigation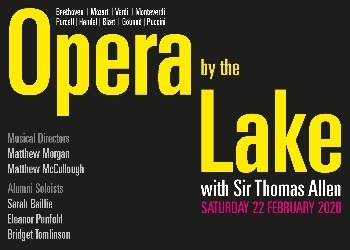 Van Mildert College invite you to an evening of operatic favourite, with Durham University chancellor, the renowned baritone Sir Thomas Allen, with music by Beethoven, Mozart, Verdi, Monteverdi, Purcell, Handel, Bizet, Gounod and Puccini.
Musical Directors: Matthew Morgan and Matthew McCullough
Alumni soloists
Sarah Baillie
Eleanor Penfold
Bridget Tomlinson
With The Feather Orchestra and Chorus, with musicians from across the region
Ann Dobson Hall, Van Mildert College. Reception at 6.30, concert 7.30
Entry by donation – recommended donation £20, students free.  Tickets can be booked by email to vm.development@durham.ac.uk or on the door.
For more information about any events listed here, please follow the event links to contact the organisers directly. I take no responsibility for the accuracy of events listed here, etc. but if there's an error, please let me know.
Click here for details of how to send concerts for inclusion on this page