Obviously there are no live concerts happening at the moment, and with the current uncertain situation, we have no way of knowing when things will start up again.
In the meantime, stay safe, stay happy and I hope you can find ways to keep music in your life. I can't wait to see everyone back at concerts again.
No-one should ever miss a concert because they didn't know it was happening
CANCELLED Orchestra North East – Russian Gala
Sun 29 Mar , 3:00 pm
|
£16
Event Navigation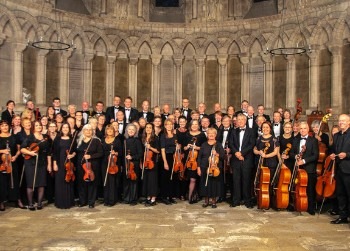 This concert has been postponed to 8 November. All tickets will be automatically transferred to the new date, but if you prefer a refund, please contact the Gala Theatre on 03000 266600
Prokofiev: Excerpts from Romeo and Juliet
Shostakovich: Cello Concerto No. 1 (soloist Christopher Murray)
Rachmaninov: Symphonic Dances
Michael Bawtree (conductor)
Emotion and passion run high in Orchestra North East's  afternoon Gala concert of three great classics of Russian 20th century music. Shostakovich's first cello concerto is a deeply personal and moving work, with the composer's famous DSCH motif ever-present.  Orchestra North East's guest soloist for the concert, Christopher Murray, is a member of the award winning Heath Quartet as well as a being a professor at London's Guildhall. Rachmaninov's Symphonic Dances are also highly personal – they were the last work he completed, and the three sizzling movements are packed with references to works from throughout his life. The 'Dance of the Knights' is the most famous part of Prokofiev's Romeo and Juliet (especially to anyone who's been to a Sunderland football game).
Tickets: £16; Concessions £14; students £8; 17s and under £3 unaccompanied or £1 with an adult. Available from Gala Theatre Box Office 03000 266600 or online via the link below.
For more information about any events listed here, please follow the event links to contact the organisers directly. I take no responsibility for the accuracy of events listed here, etc. but if there's an error, please let me know.
Click here for details of how to send concerts for inclusion on this page