Obviously there are no live concerts happening at the moment, and with the current uncertain situation, we have no way of knowing when things will start up again.
In the meantime, stay safe, stay happy and I hope you can find ways to keep music in your life. I can't wait to see everyone back at concerts again.
No-one should ever miss a concert because they didn't know it was happening
RNS Christmas by Candlelight
Thu 5 Dec 2019 , 7:30 pm
|
£15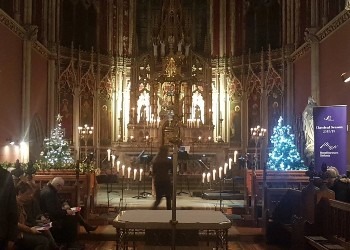 Musicians from Royal Northern Sinfonia with virtuosic solo concertos and seasonal instrumental music, including 'Winter' from Vivaldi's Four Seasons, alongside contrasting classical favourites.
Grieg Holberg Suite
Vivaldi Bassoon Concerto in E minor
Grieg Våren (Last Spring) from Two Elegiac Melodies Op.34
Vivaldi Winter from Four Seasons
Vivaldi Concerto for Two Trumpets
Grieg Quartet No.1
Tickets £15 available from Ushaw box office
Monday – Friday from 10.00am – 12.00noon
Telephone 0191 334 5119
Or book online via the link below.
Advance booking is recommended as the concert is expected to sell out.
For more information about any events listed here, please follow the event links to contact the organisers directly. I take no responsibility for the accuracy of events listed here, etc. but if there's an error, please let me know.
Click here for details of how to send concerts for inclusion on this page