Click here for details of how to send concerts for inclusion on this page
Rossini: Petite Messe Solennelle
Sat 18 May , 7:30 pm
|
£20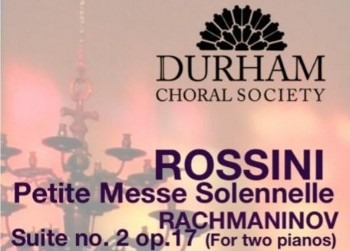 Soprano: Elizabeth Roberts
Mezzo Soprano: Susanna Spicer
Tenor: Ben Thapa
Bass: Christopher Foster
Piano soloists: Alison Gill and Yoshie Kawamura
Harmonium: Andrew Christer
Durham Choral Society, conducted by Mike Summers
Durham Choral Society perform one of Rossini's last works, one of his Péchés de vieillesse – his sins of old age: a last testament of sorts from the composer over 30 years after he'd ended his career in opera. His Petite Messe Solennelle is a piece of contradictions: a mass-setting written for performance in a Parisian townhouse, accompanied by two pianos and harmonium, a "solemn mass" that is filled with the delightful theatrical touches that made Rossini's operas so popular. It's not so little either, lasting just over an hour.
Durham Choral We are also extremely pleased that this concert provides the opportunity to showcase the talents of their regular accompanist, Alison Gill. She will play one of the pianos in the Rossini, and will also open the concert, alongside her regular concert partner Yoshie Kawamura, with Rachmaninov's Suite No.2 Op.17 (for two pianos).
Tickets: Front Nave £20, Rear nave £15
Students and 18-25: £10, under 18s £5
Available from Gala Theatre box office in person or by telephone 03000 266600, online from WeGotTickets via the link below or email tickets@durhamchoralsociety.org.uk
For more information about any events listed here, please follow the event links to contact the organisers directly. I take no responsibility for the accuracy of events listed here, etc. but if there's an error, please let me know.