No-one should ever miss a concert because they didn't know it was happening
CANCELLED St John Passion
Sun 5 Apr , 7:00 pm
|
£28
Event Navigation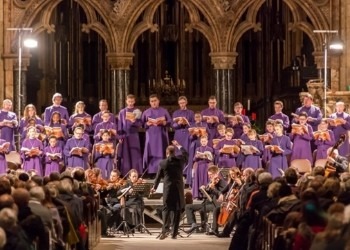 The cathedral has suspended all services and public events, including this concert. Ticket holders who booked online will be emailed about refunds, or you can call the Visitor Desk on 0191 338 7178
Durham Cathedral Choir and the Avison Ensemble give their now-annual Palm Sunday performance of J.S. Bach's St John Passion. Perhaps the closest Bach ever came to writing an opera, the St John Passion is a dramatic musical account of the last hours of Christ's life, with sublime solos and thrilling choruses telling a story of betrayal, remorse and redemption.
Directed by Organist and Master of the Choristers Daniel Cook, with Pavlo Beznosiuk leading the period instrument orchestra.
Tickets:
Front nave £28 / concessions £24
Rear nave £22 / concessions £18
Font £20 / concessions £16
Side aisles £10 / concessions £8
Available online from the link below or from Durham Cathedral Information Desk by phone on 0191 338 7178 or in person (Monday to Saturday 9.30am–4.30pm, and Sundays between 12.30–4.30pm).
For more information about any events listed here, please follow the event links to contact the organisers directly. I take no responsibility for the accuracy of events listed here, etc. but if there's an error, please let me know.
Click here for details of how to send concerts for inclusion on this page