Click here for details of how to send concerts for inclusion on this page
The Bishop's Consort – Bach Cantatas
Sun 12 Nov 2017 , 7:30 pm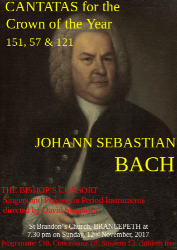 "Cantatas for the crown of the year" — the Bishop's consort, directed by David Stancliffe, perform a selection of J. S. Bach's cantatas for the Christmas season. A chance to hear some of the new up and coming soloists from among the university's choral scholars singing one to a part, accompanied by a period instrument orchestra.
BWV151 Süßer Trost, mein Jesus kömmt,
BWV57 Selig ist der Mann
BWV121 Christum wir sollen loben schon
Rosanna Wicks (soprano)
Lewis Cullen (alto)
Philippe Durant (tenor)
Matthew Asquith (bass)
Tickets £10 on the door, concessions £8, students £3, children free
For more information about any events listed here, please follow the event links to contact the organisers directly. I take no responsibility for the accuracy of events listed here, etc. but if there's an error, please let me know.