Click here for details of how to send concerts for inclusion on this page
Ushaw Jazz Festival: day 1
Fri 25 Aug 2017 , 6:00 pm
Event Navigation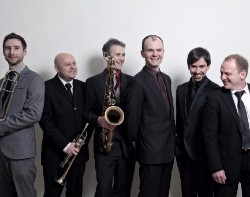 Following the success of last year's inaugural event, Ushaw Jazz Festival returns for another weekend of live music, talks, workshops, an artist in residence as well as food and drink in a stunning location.
6pm: Early Bird Band
A free performance by a band made up of rising stars of youth jazz, led by Paul Edis.
8pm: Paul Edis Sextet
The Paul Edis Sextet is steeped in the straight-ahead tradition, but with an original and contemporary edge. With a front line of trumpet, tenor sax and trombone, the group mixes intricate arrangements, solid grooves and exquisite melodies, Paul Edis has wowed audiences and critics alike with performances to date.
Tickets £8
For more information about any events listed here, please follow the event links to contact the organisers directly. I take no responsibility for the accuracy of events listed here, etc. but if there's an error, please let me know.