No-one should ever miss a concert because they didn't know it was happening
Ushaw Jazz Festival day 1
Event Navigation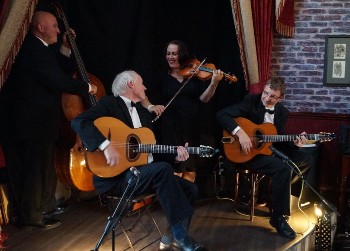 6pm – The Early Bird Big Band
FREE – Francis Thompson Room
Following their debut performance opening last year's Ushaw Jazz Fetival, the Early Bird Big Band are joined by more recruits to perform new music under the leadership of festival director, Paul Edis
8 pm – Emma Fisk's Hot Club Du Nord
£12/10 – Exhibition Theatre
Book tickets
Featuring 2018 British Jazz Awards Nominee, Emma Fisk on violin; James Birkett and David Harris on guitars and Bruce Rollo on double bass, Emma Fisk's Hot Club du Nord bring to life the classic 1930s and 40s repertoire of Django Reinhardt and Stephane Grappelli's Hot Club de France, conjuring up the swinging Gypsy Jazz of pre-war Paris with classics such as Belleville, Nuages & Minor Swing.
Day and weekend passes for Ushaw Jazz Festival are available as follows:
Weekend ticket: £60
Saturday Day Pass: £30
Sunday Day Pass: £20
For more information about any events listed here, please follow the event links to contact the organisers directly. I take no responsibility for the accuracy of events listed here, etc. but if there's an error, please let me know.
Click here for details of how to send concerts for inclusion on this page