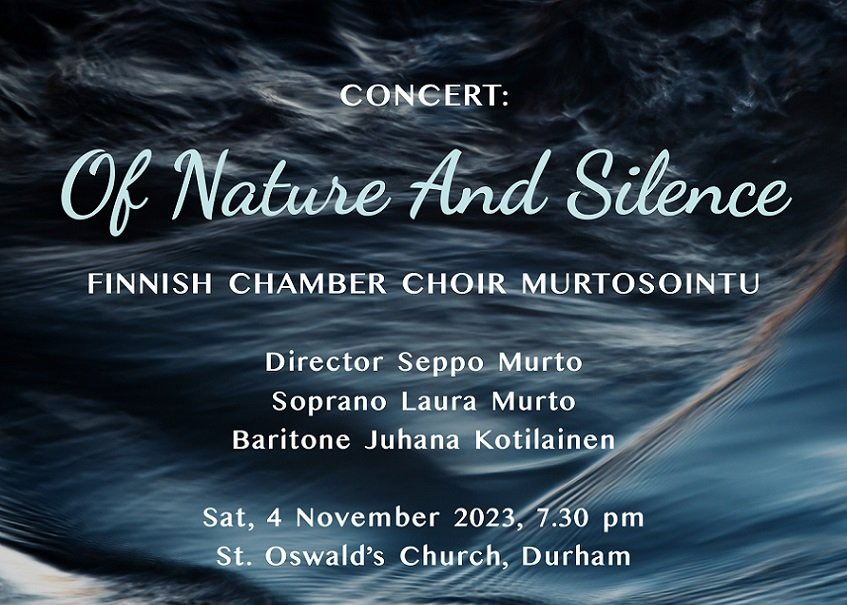 Of Nature and Silence
Finnish chamber choir Murtosointu, directed by Seppo Murto visit Durham with  a varied programme of Nordic and English choral music including works by Edvard Grieg, Ralph Vaughan Williams and Jean Sibelius. Focussing on the natural world and the silent beauty to be found within it, this concert is an exploration of humanity and the world we live in.
The choir is based in Espoo, Finland and performs demanding a cappella choral music aiming at the highest standards, as well as great choral masterpieces with other choirs and orchestras. This year, Murtosointu celebrates its 20th anniversary, and this concert programme reflects the choir's theme for their anniversary year of nature and its diversity.
The name of the choir is a word play: Murtosointu means arpeggio, but can also be read as the "Chord of Murto", reflecting its founding father and artistic director Seppo Murto.
With soloists soprano Laura Murtu and baritone Juhana Kotilainen.
Tickets £10, concessions £7