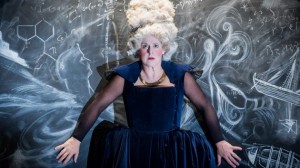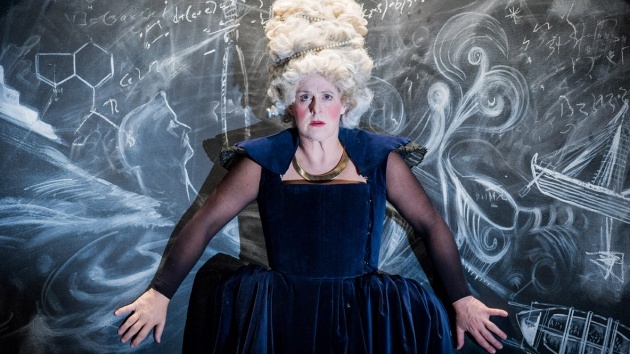 Agrippina is one of those big characters in Roman history – sister of Caligula, niece and wife of Claudius and mother of Nero, she seems to have spent her life embroiled in scandal and notoriety. Given this subject matter though, and the baroque tendency to delight in excesses of all kinds, Handel's Agrippina is remarkably restrained. Although the whole opera is about struggles for sex and power, all the shenanigans of the plot are undertaken with naive incompetence, and at the end everyone seems to get what they want without anyone even dying. There was no wrecks and no-body drownded. Literally, in fact: the opera begins with news of Claudius's death at sea, which prompts Agrippina to start setting the wheels in motion to ensure her son Nero's succession. Claudius inconveniently turns up, alive and well and not drowned at all, just as Nero is about to ascend the throne.
After this shock, Agrippina wants to make sure that Nero is proclaimed as Caesar, and Claudius's heir, whilst Claudius intends to bestow the title on his comrade Otho, who saved his life. All three men are lusting after Poppea, so Agrippina hopes to capitalise on this, but Poppea herself has other ideas and doesn't play nicely with Agrippina's schemes. Eventually, every character realises that their own desires are in fact compatible with everyone else's, everything gets sorted out, and to finish it all off, we have the obligatory appearance of a deity, with Juno putting her seal of approval on proceedings.
Although Handel had written a couple of operas before Agrippina, this is the earliest that survives complete, and that is regularly performed. The libretto was by the Venentian Cardinal Vincenzo Grimani, and the opera was first performed in the 1710 Carnival season in Grimani's newly re-opened family theatre. Grimani's libretto is sharp and ironic, its lightness is matched by Handel's delightfully easy-going music. Most of the arias are quite short, without any excessively virtuosic demands, and there are plenty of great tunes – so good that he used them twice. Much of the material for Agrippina came from Handel's earlier Italian works (along with a few cheeky borrowings from other composers), although as Christopher Hogwood points out in his biography, Handel often exercised considerable skill in selecting which material to re-use, and in reworking it as necessary, and was thus able to delight the opera's first audience with something that sounded fresh and original and that kept the Venetians entertained for a run of twenty-seven performances. Music from Agrippina inevitably then found its way into later works too – Poppea's aria "Bel piacere" reappeared in Handel's next opera, Rinaldo and Agrippina's "Non hò che per amarti" is more familiar to me as the final movement of the G minor recorder sonata.
There's plenty of brilliant orchestral colour too, right from the delicious oboe runs in the majestic French-style overture. The dark timbre of the oboe is particularly useful for hinting at the insincerities and deceits behind seemingly innocent texts, and they have plenty to do in this opera. We also get some suitably regal trumpets for Nero's interrupted coronation and recorders add a lighter note, for example for the love aria of Narcissus, one of the pawns in Agrippina's game.
To round off, here's one aria for each character. (Translations are from the online libretto at the very useful site www.opera-guide.ch)
Agrippina – Pensieri voi mi tormentate
How you torment me, my restless mind! 
May heaven aid my plans! 
Let my son reign, smile upon him, you gods
One of the more dramatic arias, when Agrippina starts to fear that all her plans will come unravelled. The opening passage is accompanied with brooding, sinister strings, and pensive oboe, before a contrasting B section when she pulls herself together.
Nero – Quando invita la donna l'amante
When a woman invites her lover, 
love's pleasure is close at hand. 
When she says: "Come straightaway," 
it's a way of saying: "Come and enjoy yourself!"
A deliciously saucy aria from Nero who thinks he's about to get into Poppea's bed – in reality he'll be stuck, like so many operatic characters, hiding behind a door, victim to someone else's scheming.
Claudius – Por ritorno a rimirarvi
Once again I behold you in wonder, 
my pretty eyes, my stars of love; 
never tired of worshipping you 
I offer in tribute my soul and my heart. 
Another hopeless man lusting after Poppea, but this time a dignified bass aria, with a continuo part that reappears in the first movement of Handel's A minor recorder sonata.
Poppea – Vaghe perle, eletti fiori
You precious pearls, you choice flowers, adorn my brow! 
Increase the rarity of my beauty. 
To awaken love in men's hearts 
I have in mine a ready desire. 
And who is inspiring all this desire? Poppea, a beautiful and vain minx, who makes her first appearance admiring herself in the mirror.
Otho – Voi che udite il mio lamento
You who hear my complaint, share my grief with me. 
I lose a throne, which I despise, 
but my beloved, whom I prize so greatly, 
ah! what torment it is to lose her, 
unmanning my very heart within.
Claudius's right-hand man Otho is the most likeable character in the opera, caught up in everyone else's schemes, all he wants is a quiet life with his beloved (guess who…) Poppea and this aria is a gorgeous lament.
If you have a Spotify account, I've put them all into a playlist, in the order they appear above, plus the overture. The recording is Jean-Claude Malgoire's 2004 live recording, with Véronique Gens in the title role and the lovely Philippe Jaroussky as Nero.
ETO are touring Agrippina as part of their baroque opera season – catch it at the Gala Theatre, Durham on 4 November – details here