The BBC Proms ended this weekend, which mean it's definitely the end of the musical summer. If you haven't got all Durham's autumn concert dates in your diary yet, here's a quick run down of some of the events I already know about, with links at the bottom to the event listings. There'll also be plenty of university concerts to choose from once the students reappear, so keep checking back to see what's new.
It's looking to be an exciting few months for early music fans. I'm battling with my conscience about whether to miss choir practice for a rare chance to see the viol consort Fretwork at Musicon on 12 December. I love the richness and sensitivity of their recordings, and seeing them live would be a real treat. I'm also fascinated to see that the viol repertoire isn't stuck in the past, as their programme includes pieces by Gavin Bryars and Nico Muhly.
English Touring Opera are bringing us another pair of baroque operas. Il ritorno d'Ulisse in patria by Monteverdi is being presented in English as Ulysses' Homecoming in a new production designed by the Greek designer takis: I adorded his set for Ottone a couple of years ago, and combined with Monteverdi's seductive music  this promises to be beautifully sensual evening.  Take a look at the ravishing trailer. englishtouringopera.org.uk/productions/ulysses-homecoming
The first opera of ETO's two nights at the Gala is Handel's Xerxes, set during the Battle of Britain – the plane tree under which Xerxes sings the opera's most famous aria, Ombra mai fui (aka "Handel's Largo") becoming instead, well, a plane. I've thoroughly enjoyed all of ETO's Handel productions in recent years, and I'm greedy for more, but I'll have to miss this one as it's on the same day as the last rehearsal for Durham Singers Messiah. Missing Handel to sing Handel is some consolation.
Which leads me onto, of course, the Durham Singers Messiah. Obviously I'm hugely biased here, but after a couple of rehearsals, I can promise you that there's going to be some very exciting and energetic singing in the choruses. We've got our period instrument orchestra coming again, and soloists from Samling, including Ana Fernandez Guerra who sang Eve in Haydn's Creation with us last year. Sticking with the early music theme, we're also singing in a concert in Castle Great Hall with the European Lute Orchestra on 30 October. I'm not sure of all the details yet, but they'll be on here when I know.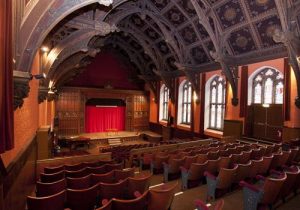 It's not all early music for autumn, even though at the moment it seems to dominate my listings. Ushaw College continue to develop their concert series, making use not just of the stunning St Cuthbert's chapel but of other spaces around the building. The Victorian theatre is fitted out with comfortable plush velvet seats (retrieved from an old cinema) and has a particularly good acoustic for chamber music. Royal Northern Sinfonia visit on 25 September for an afternoon concert with a lovely programme of mostly English string music – Elgar's Serenade, Holst's St Paul's Suite and Warlock's Capriol Suite (a particular favourite of mine), and Bradley Creswick plays Vivaldi's Four Seasons. At just £15 a ticket, and without the hassle of driving to Gateshead and paying for parking, this is a real bargain too!
Orchestra North East celebrate their 30th anniversary with a new piece The Land of the Prince Bishops by local composer Robert Smedley, with they perform in the cathedral on 8 October along with Elgar's cello concerto and Bruckner's Fourth symphony.
If you're inspired by all these concerts to have a go yourself, you may be interested in the new section on this website for workshops and events. Come and sing days are always great fun, and give you a chance to try out your voice if you've not sung for a while, or to pick up tips and advice if you're already singing. Choose from Mary Poppins, Gregorian chant or Messiah! Or if you're a lapsed instrumentalist, why not give the Cobweb Orchestra a try. Their new beginners' orchestra starts on 4 October at Ludworth Community Centre.
Whether you're attending concerts, or performing, or making music at home, enjoy your music this autumn and don't forget to keep visiting Music in Durham to find out what's going on.