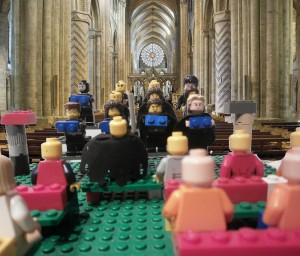 Naturally, this is a very biased preview, as not only am I singing in this, I'm also running the publicity and ticket sales campaign. But I'm also, honestly, extremely excited about the Durham Singers St Matthew Passion this weekend, and I believe everything that I've written for our official communications. I've been in paid jobs where I've had to talk up something really dull, but when I write things for Durham Singers, I can allow myself to be genuinely enthused. This is now me writing as myself, with my personal preview for the concert.
Once again we've got a band of really first rate baroque players and as a singer, I've been amazed at what a difference it makes. I've sung in bigger choirs with professional orchestras before, but there's something about the period instrument sound and the enthusiasm and knowledge that these players bring that raises our performance to new levels. I love the moment when we stand up for the first notes, when it's too late to worry about anything administrative or musical, and I can just get swept away by the music. This year, we've got a theorbo joining us, we've got Susanna Pell playing viola da gamba, there will be the lovely oboe da caccia – a kind of tenor oboe that I'm greatly looking forward to seeing and hearing, and of course there's an aria with two recorders. One of the flautist/recorder players is my lovely recorder teacher Mary Tyers; I'll be singing during the recorder movement, but I'll be paying lots of attention to her style during all the arias with flute.
Balancing these experienced professional players, we have an awesome line-up of young singers for the arias. To give you an idea of the talent we've got, think of your favourite top-flight singer for a moment. It's very probable that one or more of our St Matthew soloists will reach the calibre of that singer one day. I'm reluctant to pick out individuals, because one of two of them I've not heard yet, but last time I heard Camilla Harris sing, (review here) I was blown away by her clarity and sheer technical ability. Mezzo Charlotte Heslop has sung with us twice before, and produces a glorious sound whilst seeming incredibly still and calm and Sarah Ryan is simply going to break everyone's hearts when she sings Erbarme Dich. 
All this, and Bach's extraordinary music. I'm in choir 2, which I was momentarily disappointed about when I looked at the first chorus, but now that I know the work better, I'm enjoying our role in that opening, and the feeling that we're speaking for the confused and bewildered ordinary people, the ones who don't know what's going on and who need Bach to give us a bit of a hand. We then get to do lovely little accompaniments to some of the arias, and the unashamed tear jerker that is the penultimate movement – each soloist bids farewell to the dead Jesus while we sing "Goodnight, my Jesus". And what I love about this choir is that we're allowed to put heart and soul into what we're singing, we don't go in for stylistic fiddling about. So, during the crowd scenes, we'll be letting rip and getting really nasty, and there will be moments of incredible calm and there will be passion. Every time we do one of these big concerts, I am challenged, musically and emotionally; my world stops, makes a little readjustment and sends me out of the cathedral in a slightly different direction.