Brass band music is a vital part of our musical heritage. I grew up in Dorset, far away from the northern heartlands of brass, but even so, Dorchester had a thriving brass band that regularly played in the bandstand of the Borough Gardens and for important town events, and brass playing was at the heart of the music curriculum at my first and middle schools. I never really appreciated the sound of brass bands though, until I settled here in Durham, and their peculiar mixture of pride and melancholy adds a particular poignancy to the annual Miners' Gala. The mines are gone, but the music lives on.
Durham's annual celebration of brass music has now spread beyond the day of the Gala itself to a week long festival of brass music, that mixes concerts and street performances. On Saturday, I reviewed Onyx Brass for Bachtrack (read my review here) who played in the chapel at Auckland Castle, then on Sunday afternoon my son and I headed into town for Streets of BRASS  – free performances all around town.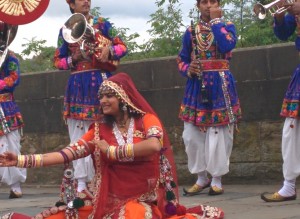 We only heard three bands, because the boy had enjoyed Onyx so much on Saturday that he wanted to hear both of their Sunday performances, and I wasn't going to argue. We also heard the fantastically named Les Bombz'atomique a French sextet, clad in reds, yellows and cerise pinks, with music to match and who drew a huge crowd in the market square, and the equally colourful Jaipur Kawa (pictured here with their dancer) who mixed Indian and Western band music.
Onyx's appearances in Durham were part of their "Tour de Brass", taking their music to bandstands across the country. Composer David Sawer wrote a new work for the group, Bronze and Iron for this tour – the "bronze" referring to the instruments and the "iron" to the bandstands. We saw them perform it twice – once on Framwellgate Bridge and later on Elvet Bridge. The piece begins like a flash mob, with the players emerging from out of the passers-by, at first just calling to each other with single notes and slowly assembling, and then dispersing in the same way at the end – in the Elvet performance, the trombonist disappeared off down the steps towards Klute and I wondered if that was the last we'd see of him. It was a great piece for outdoors, all bright chords, calling people to come and listen.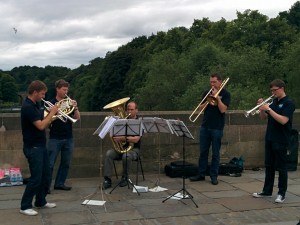 Their outdoor repertoire was mostly lighter than they'd played at the concert, but by happy coincidence they did repeat our two favourites – Copeland's exuberant Hoe-down from the ballet Rodeo, and a thoughtful, spacious arrangement of Couperin's Les barricades mysterieuses that I could have listened to repeatedly. And whilst they were dressed much more soberly than the other groups we'd watched, they cleverly arranged for a great burst of sunshine and blue sky, right in the middle of Handel.
Streets of Brass is on again on 19 July and I see that Bombez'Atomique and Jaipur Kawa are both playing again. You can check the full timetable, and all the other events on the BRASS website.
Or watch the Onyx Brass Tour de Brass trailer, featuring that brilliant Hoe-down: