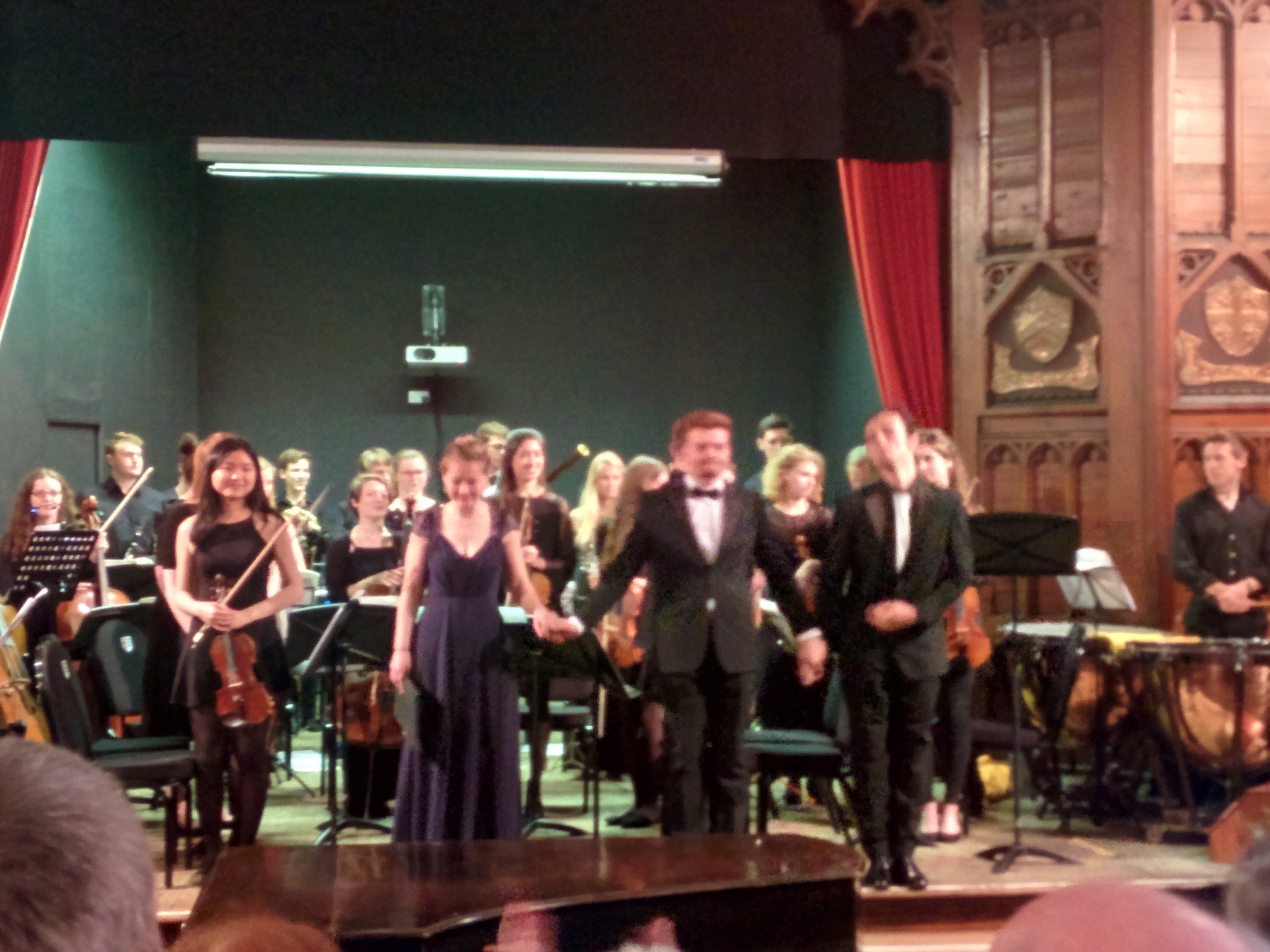 Orchestra Cipriani and their conductor Lewis Wilkinson have a precise mission; to match up works by British and European composers, shining a spotlight on the Continental influences on British music, with the British element of this mixture so far being an emphasis on lesser known composers or pieces. The British first half of tonight's concert was an overture, The Wood Nymphs, by Sterndale Bennett, and the first modern performance of Charles Villiers Stanford's Piano Concerto in B-Flat and it seemed apt that these lost Victorian pieces should see the light of day in the gothic grandeur of the theatre at Ushaw College – itself a neglected Victorian treat that is gradually being opened up again.
Sir William Sterndale Bennett spent some time in Germany, earning praise from Mendelssohn, whose influence on the Wood Nymphs overture was clear. Sterndale Bennett was apparently offered a job as conductor of the Leipzig Gewandhaus orchestra, but returned to England, eventually becoming Principal of the Royal Academy of Music. The Wood Nymphs began with a warm flute motif, interspersed with a romantic violin melody, before breaking out in to a joyful dance, coloured with an attractive skipping violin melody and ending with some rousing brass. Personally, I wouldn't rush out to listen to it again, but it was perfectly pleasant for a concert opener.
Something I would rush out to hear again is the Stanford piano concerto that received its modern première this evening, edited by Jeremy Dibble after he found the manuscript in a Newcastle library. Stanford was taught by Sterndale Bennett whilst at Cambridge, and wrote this concerto in 1873, whilst he was a student. The three movements clearly show the influence of German composers, but this is no mere student pastiche, it's an accomplished, well constructed piece, with a distinctive voice: the way Stanford uses the brass felt particularly English, reminiscent of bands playing hymns.
Alison Gill gave an assured performance of the demanding solo part, sparkling in the outer movements and beautifully tender in the melancholic slow movement. After dramatic exchanges between the piano and the lower strings, the first movement then picked up energy, with fluid, rippling runs. The second movement, titled Elegy, was particularly lovely: Alison Gill's piano solos sounded so nostalgic and mature that it was hard to believe Stanford was just 21 when he wrote this concerto. There was some lovely tremolo playing in Orchestra Cipriani's string section, and a beautiful clarinet solo as the mood becomes more passionate, before finding calm and a return to the wistful nostalgia of the opening. The final movement was a joyful blast, opening with a well-played horn solo and spiky winds, and some very characterful pizzicato. The brass build up a cheerful march, and it ends with some rousing crashes, played tonight with plenty of enthusiasm.
Beethoven's overture to Goethe's play Egmont, about a hero of the Dutch struggle for independence from Spain is a concert staple – but for anyone who wonders what comes next, Orchestra Cipriani provided the answer by performing Beethoven's complete incidental music. The set consists of nine pieces, including two soprano arias for Egmont's beloved, Clara, linked with narration. There were a few points in this where the winds sounded under-rehearsed and sadly the wind and brass melody in my favourite bit of the overture was lost behind the strings, but overall it was an enjoyable performance, with some particularly fine playing from leader Hayley Lam and plenty of heroic brass.
Claire Ward was excellent in the soprano role of Clara, with a clear warm tone and excellent German. Her first aria, in which Clara expresses her wish to accompany Egmont into battle was full of martial fire, with a suitably military accompaniment, and her second in which she sings of joy and sorrow was full of dramatic colour.
Narrator Samuel Arrowsmith took us through the story with panache, particularly in Egmont's rousing speech on the night before his execution, and the orchestra took their cue from this for their final spirited reprise of the music from the end of the overture.