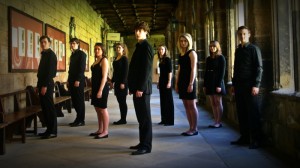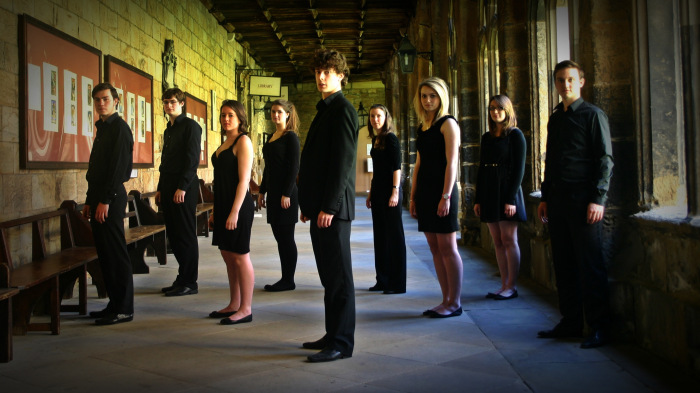 Musical anniversaries are always handy for concert programmers, and this year the two Nordic heavyweights, Sibelius and Nielsen, both born 150 years ago, are all over the concert and radio schedules. But there's another anniversary this year that's bringing delight to everyone who loves Renaissance choral music – that of the Tudor genius John Sheppard, who was probably born in 1515, and whose music, particularly in his Latin settings, is quickly recognisable by its deliciously spicy harmonies.
Conductor Ben Rowarth and the nine singers from his ensemble, Renaissance, built their programme for last night's concert at Ushaw College around one of Sheppard's greatest works, the motet Media Vita, weaving it through a programme of early and modern unaccompanied music that roughly followed the Easter trajectory from darkness to light, joined by bits of Holy Week plainsong resounding through the chapel, sung by Tom Rowarth, hidden away in the ante-chapel. The line-up of Ben Rowarth's choir has almost completely changed since I last saw them, but the cool focussed singing and impeccable blending that always characterises Renaissance's performances was unchanged.
Media Vita – "In the midst of life, we are in death" is an extraordinary work: over twenty minutes long, the agonised harmonies give dark, brooding pleas for God's mercy at the end of life, whilst a soaring soprano line expresses a fervent faith in God's holiness. Personally, I was disappointed that Renaissance spilt the motet into four parts across the concert: I can see that it made the programme more balanced, but I felt that the build-up of intensity through the piece that comes with each repeat of the "Sancte Deus" section was lost. However, given the way the tears were pouring down my face in the last section perhaps that was for the best; if I'd had it all in one go, it might have been just too much. There was nothing flashy or emotional about the way Renaissance sang, and I applaud their decision to do it at a lower pitch, making us focus on more than just stratospheric sopranos. It was the distilled purity of the singing, just letting the music work its magic right from the opening line, that made this performance so devastatingly effective.
We were softened up for Media Vita with a piece by Tallis, Thou wast O God, that I thought I didn't know – but to my delight, it turned out to be a later reworking to words by John Mason of the famous hymn from Archbishop Parker's Psalter – better known as "Why fum'th in fight" or as the source of Vaughan Williams' Fantasia. There's something about this particular bit of Tallis (particularly with the original words) that always evokes for me the dark cruelty that lay at the heart of Tudor politics, and the icy cold, poised singing reflected the bleakness of Mason's hymn. This was one of those concerts where I could feel that everyone around me was utterly captivated – I swear no-one moved a muscle throughout – and it was the effectiveness of this simple bit of Tallis that drew the audience in.
Among the other early works in the programme, I particularly enjoyed the first of Sheppard's two Libera Me settings for the way the repeated falling motif on the words "O beata" glittered through the texture like little droplets of water. Similarly, the words sine peccato rang out of Tallis's Suscipe quaeso Domine in a performance that pulsated with urgent pleading. Drop, drop slow tears by Orlando Gibbons was soothing and poignant, whilst Tallis's Misere Nostri settled us with an inward looking sense of peace.
As usual, Renaissance mixed the Tudor polyphony with more recent works; piquant, expressive harmonies were at the forefront again in a spine-tingling performance of Poulenc's penitential motet Timor et Tremor and a beautiful hymn by the Icelandic composer Thorkell Sigurbjörnsson, Heyr, himna smiður floated outside of time, with the soft sibilant sounds of the Icelandic text coming across very effectively. John Tavener's As one who has slept moved the programme from darkness to light, and was sung with great control, rising into brightness over an impressively sustained bass drone.
The concert ended with Loquebantur by the Spanish composer Don Fernando de las Infantas. The text tells of how the Holy Spirit gave the apostles the gift of speaking in tongues and this is illustrated in the music by giving half the parts the instruction to sing a tone higher than written, effectively creating two different key signatures. I must confess that I hadn't read the programme note that explained this before hearing it, and I was still completely overwhelmed by the last section of Media Vita so all I was able to take in was a sense of glorious brightness, ending a concert that made me want to go away and sit very quietly for a bit to bring me back to normality.