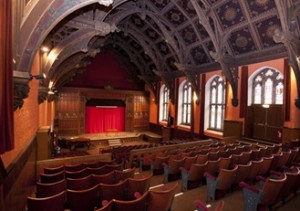 Thank you to Ushaw College for sending me this release about their new string quartet.
As part of the programme of diverse concerts and events at Durham's newest cultural venue – Ushaw, we are delighted that Edward Cross the well-known, enterprising and much admired violinist from Newcastle has created a new chamber ensemble to play at Ushaw. Together with Hannah Tattersfield ( Violin) Maria Laura Belli (Viola) and Claire Macfadyen (Cello) the Ushaw String Quartet will make its debut on Saturday 21st February playing in the extraordinary Gothic styled theatre at Ushaw College, 2 miles west Durham. The programme will include Mozart -the "Spring" Quartet K387 and Schubert's Quartet No.14 Death and the Maiden – both works justifiably recognised as masterpieces in the chamber music repertoire and popular with public and players alike.Later in the season the Ushaw Quartet will play Haydn's Seven Last Words in St Cuthbert's Chapel – three further concerts are programmed through to July.
Fr. John Marsland President of Ushaw said "We are delighted that Ushaw has a string quartet named after it. It is a great honour for us and we are looking forward to their music making immensely. There is a great tradition of music in the college particularly choral singing however to have a group of string players of such quality playing at Ushaw will be something quite special for us."
The concert starts at 3.00.p.m. and the chapels, gift shop and café will be open from 2.00.p.m.