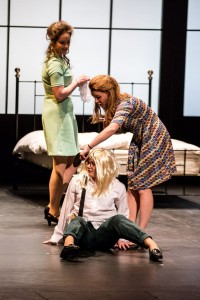 Mozart's Marriage of Figaro is, on one level, a gloriously silly comedy, a mad whirl of cross-dressing, hiding in cupboards and impossible mistaken identities, but the comedy in the opera's "day of madness" is drawn out of darker undercurrents of hypocrisy, bullying and violence. Durham Opera Ensemble's production at the Gala Theatre allowed for plenty of laughter, but without neglecting the disturbing truths that make the comedy so precarious. This production reminded me above all that if you dare to stop laughing and think about Figaro, it can become very uncomfortable viewing.
When Figaro made his first appearance on the stage in Beaumarchais's plays, he caused a scandal because of the dangerously revolutionary idea that servants could scheme against their masters and come out on top. Producer Rebecca Meltzer transferred Durham Opera Ensemble's production to the free-wheeling sixties, a setting that gave lots of scope to explore the other tensions in Figaro; the dubious borderlines between flirtation and harassment, the double-standards of sexual freedom, and the secret tensions that exist behind the closed doors of married life. The sixties settings also gave scope for some great costumes and staging. The Countess's elegant perfection immediately, and aptly brought Jackie Kennedy to mind. I loved the chorus girls in their Mary Quant dresses, and the sight of the entire cast jiving to Mozart during the wedding dance was marvellous.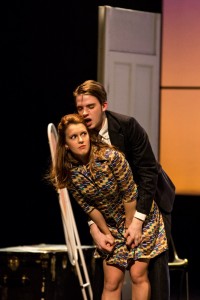 The opera may be called The Marriage of Figaro but really it's about the marriage of Count Almaviva and his Countess Rosina. Tara Love carefully balanced the Countess's public glamour with her inner turmoil at the state of her marriage; her powerful, passionate Act 3 aria was heart breaking. Opposite her, Crispin Lord was vicious and controlling, and behind their public reunion at the end there lurked the memory of his very nasty violent behaviour towards his wife that we saw at the end of Act 2. When it comes to fidelity, he made it frighteningly clear that there's one rule for him and an entirely different one for his wife.
Janelle Lucyk showed Susanna maturing over the course of the day; she begins as a provocative, flirtatious minx who thinks she's always in control of the games, until the tenderness and love that poured out of her garden arias showed her to be a woman who has discovered the happiness of true devotion. Tom Rowarth, the object of her devotion, was a solid, dependable and mostly very likeable Figaro but he too had his unpleasant side when he and his henchmen teased and mocked poor Cherubino as they bundled him off to war. This scene with its impossibly catchy tune became a really nasty bit of bullying; the Count's example cascading down through the hierarchy of his establishment.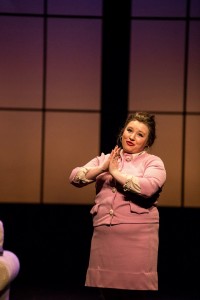 But for all this, there was of course plenty to laugh at too and the secondary characters who carry most of the comedy did so with flair. Aaron Prewer-Jenkinson was a wonderfully doddery Bartolo, and Emer Acton played a sympathetic Marcellina who begins as a woman who knows she is past her prime but doesn't want to admit it, and whose discovery of her true relationship to Figaro allows her to finally to be herself. John Turner-Smith was a spectacularly camp and oily Don Basilio whilst Marnell Blair's playful Cherubino delighted everyone. These last two were both a big hit with my ten-year old son, who nudged me and grinned every time either of them appeared on stage. It's worth mentioning at this point that the President of DOE, Lewis Whyte, wrote in his programme introduction that DOE want to make opera accessible to all: the delight on my boy's face throughout the show and the evident enjoyment of another young girl sitting near us made it clear that they had achieved just that. The move to the Gala Theatre has helped here too – it just feels like a more inclusive venue for anyone outside the University, and I hope that DOE will be able to continue staging productions there.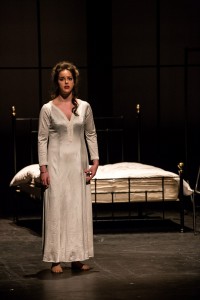 Another obvious advantage of the Gala is having a proper pit – last year's Magic Flute had the orchestra hidden behind the stage with a camera to watch the stage. Now the orchestra, conducted by Harry Castle, were able to flourish. The overture was hectic and fun, bursting with the optimism and possibility of a wedding morning. It did then take a couple of scenes before the balance between the band and singers settled down but on the whole everyone was audible and clear enough. The orchestra created the most moving part of the whole production, as the Countess forgave her husband and the music suddenly blossomed, releasing all the tension, but it was a release that was tinged with sadness for its inevitability. The orchestra here seemed to be saying that they had been waiting all evening for the Countess's forgiveness, because they'd seen it all before and knew it was coming. We know that Figaro and Susanna will go off to have a happy, straightforward marriage but the orchestra's sigh made it clear that there is no happy ending for the Countess.
Thank you to Kyle Wong for allowing me to use his photographs.

https://www.facebook.com/KyleWongPhotography
http://www.kylewong.co.uk/