If this website has a mission, it's to get more people going to concerts in Durham. If you already know what you like, then I just want to make it easy for you to find out what's on.. But I'd also love to try and get more people trying out a classical concert for the first time, so if that might be you, and you're not sure where to start, I'll be posting a series of previews over the next week or so, covering some of the different types of music on offer this autumn and hopefully giving you some ideas. I'll start with the symphony orchestra, because there's a concert coming up this Saturday for you.
There's nothing quite like the sound of a full symphony orchestra; the combination of sheer power and a rainbow of musical colours can be utterly overwhelming, and all you can do it open your ears and mind and let it sweep you away. You don't need to know what the composer had for breakfast, or understand the all the complexities of harmony: you can just take it for what it is, a glorious expression of all those things that are still left behind when we run out of words to explain how we feel.  This term, there are two big orchestral concerts to choose from, so far, and there will probably be more to come as the student orchestras add their listings.
There's a lot of etiquette and tradition around orchestral concerts, and I'll explain some of that in a separate post very soon, hut fortunately for the newcomer, concerts in Durham are pretty informal and friendly, particularly student ones, so just turn up and enjoy yourself. Don't sit too near the front though, because then you'll only end up hearing the instruments you're sitting near; you'll have to sacrifice the view, but you'll get a more balanced sound if you sit a bit further back, especially in the cathedral.
Orchestra North East
Next Saturday, 5 October, Orchestra North East (pictured above) are in the cathedral with three powerfully enjoyable orchestral works, all bursting with melody and emotion. (details here) Wagner's overture to his opera Die Meistersinger is one of those grand and recognisable 'big tunes' that you'll be humming all the way home. And if you're not humming Wagner then it'll be the big tune from Elgar's Enigma Variations, a set of musical portraits of Elgar and his friends, all based on the same melody, which Elgar said came to him from nowhere one evening when he was tired, and doodling on the piano. This simple tune reaches its greatest heights of expression in the most famous variation, 'Nimrod', which has taken on a life of its own, particularly for funerals and remembrance. The concert finishes with Rachmaninov's third symphony, which to be honest I don't think had never heard before writing this piece, but I've just listened to it while writing this, and it's full of Russian soul and aching tunes. Rachmaninov wrote it after he left Russia, and it is full of longing for his homeland. If you know Rachmaninov's 'Symphonic Dances', this symphony seems to be in the same sort of mood.
If you want more information about the music, I recommend buying a programme at Orchestra North East concerts (and turning up with time to read it), because they always have very thorough notes telling you more about the music and what to listen out for.
Durham University Symphony Orchestra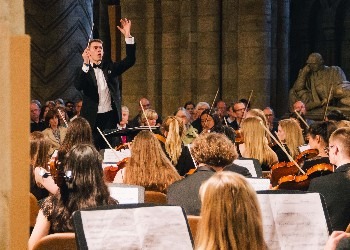 Durham University Orchestral Society (left) also start with a Wagner overture in their symphony orchestra concert at Elvet Methodist Church on 23 November. (details here) It's followed by Bartók's viola concerto. The viola is a very underrated instrument and often the butt of jokes, because people think they just get boring, easy things to play, but Bartök's concerto gives the soloist a chance both to show off the instrument's warmest, mellowest tones and to demonstrate staggering virtuosity. It was Bartók's last work, and in fact left it unfinished, but it is so full of life, colour and sheer energy that it's hard to believe that it was written by a dying man.
The symphony on the DUOS programme is Dvořák's ninth, 'From the New World', with another tune that has escaped into the wide world. People of my age might remember it as the music used in that legendary Hovis advert with the boy pushing his bike up the hill, but as ever, there's far more to the symphony than that one tune, and it's always good to hear these things put back into their original place, where they arise like old friends.
Student symphony orchestra concerts always have a great atmosphere with an audience full of friends of the musicians, and the music itself always has an extra shine to it when it's being played by passionate young people: the student orchestras always feel just a bit louder and faster and more daring than many professional ensembles can afford to get away with.
Coming next: opera for all