It seems that all the musicians in Durham are coming out to play this weekend – I have five concerts listed on here, ranging from solo organ to full symphony orchestra, and performers from amateur to international super-star.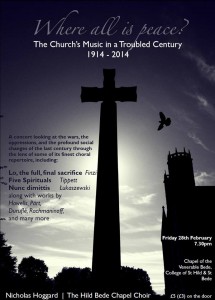 The weekend begins on Friday lunchtime with the second Mendelssohn organ concert at Hatfield College, the organist this time being John Hosking of St Asaph Cathedral, then on Friday evening there's rather a fantastic programme of choral music in Bede Chapel. "Where all is peace? The Church's Music in a Troubled Century 1914-2014" promises music by a dream line-up of 20th century choral names – Tippett, Howells, Rachmaninov, Pärt, and Finzi, performed by Hild Bede Chapel choir, beginning in darkness, in what sounds like a very moving concert. I wish I could go, because it looks wonderful, but I'll be otherwise occupied making my own return to performing, after a gap of about 20 years. My friend Liz and I are giving a recital of music for soprano and recorder – she's singing Handel, Quilter and Britten, I'm playing sonatas by Handel, Rubbra and Lennox Berkeley, and we're doing one of Handel's Italian cantatas together.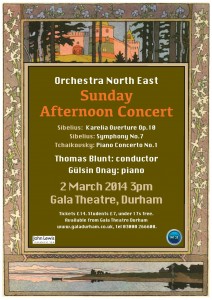 Saturday seems to be a rest day for everyone, unless there's anything I've missed. Then, on Sunday afternoon, Orchestra North East are playing Sibelius and Tchaikovsky at the Gala Theatre, with guest conductor Thomas Blunt, and pianist Gülsin Onay. It's not so often that I get to hear a full symphony orchestra, so I'm looking forward to this, and the afternoon start time is a great idea – the orchestra are hoping that it will be particularly appealing for families.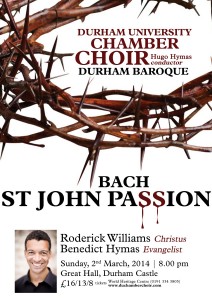 It also means that I can then scoot off to University College in the evening, for the weekend's highlight, as far as I'm concerned – Durham University Chamber Choir's St John Passion. It's my favourite of Bach's Passions, and as I reported a couple of weeks ago, this one has an extraordinary line-up of soloists. The fact that Hugo Hymas is conducting rather than singing might have been a disappointment, but instead, we get his equally talented brother, Benedict singing the Evangelist, and baritone Roderick Williams, whose daughter is an undergraduate at Durham, sings Christus. They'll be accompanied by professional period instruments, reviving the name of Durham Baroque – I think more or less the same orchestra who accompany David Stancliffe's baroque performances.
All in all, quite a line up of concerts – and then there's more over the next couple of weeks. The university choirs and orchestras all put on their end of term concerts, culminating in a combined performance by the University orchestra, choral society and chamber choir of Mozart's Requiem and Ben Rowarth's new work. Lent starts on Wednesday, which means it's not long until the Passiontide concerts start up: Durham Cathedral Choir perform Requiem settings by Brahms and Howells on 8 March and I've just had news about a David Stancliffe Bach cantata concert, which will get listed on here soon.