July in Durham means brass music. On the second Saturday of the month, bands and banners from trade unions and mining communities parade through the streets for the Miners' Gala, and although the banners are only out for a one day, the music carries on for another week, thanks to the DurhamBRASS festival, with concerts and events running in the city and around the region from 9 until 16 July. The guiding principle of the festival programming is that it brings together as many different types of music as possible – anything goes, as long as it has brass instruments in it. There's traditional band music of course, there are big bands and jazz of many flavours, Broadway shows and soul music, and you can even bring your own instrument and play along to the film "Brassed Off".
The festival finishes with "Streets of Brass" on 15-16 July, when bands from around the world take to Durham's streets and open spaces giving free performances – many of the groups performing in Streets of Brass specialise in eye-catching outdoor entertainment, adding dance, comedy and bizarre costumes alongside infectious music. The range of music and events goes way beyond what I can cover, so for this preview I'm going to focus on the two major classical music concerts that take place during the festival. Check my listings and the festival website for more information.
Some of the earliest published brass music came from St Mark's Basilica in Venice, home of the Gabrielis (uncle and nephew Andrea and Giovanni) and Claudio Monteverdi among others. These church musicians exploited the internal architecture and acoustics of St Mark's, placing groups of singers and instruments around the extensive balconies, creating a stereophonic effect. Durham Cathedral doesn't have the balconies, but it does have the space and acoustic possibilities to explore the music of the Venetian masters and other composers who were influenced by them, which is what Durham Cathedral Choir, and His Majesty's Sagbutts and Cornetts will be doing in their "Venetian Surround Sound" concert on 14 July. The choir and instrumentalists will move around the building, giving a flavour of the St Mark's experience, and it's an arrangement that will certainly make a change for the cathedral audience, who often have to make a trade-off between having a good view, or getting the best sound. The evening will also be noteworthy for being the cathedral choir's last major concert under the direction of James Lancelot.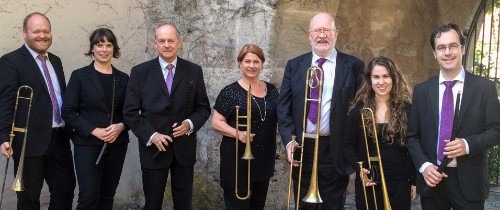 In case you're wondering about the instruments in this concert, a sagbutt (more commonly known as a sackbut), is a forerunner of the trombone, and has a beautifully mellow sound. A cornett is not, strictly speaking, a brass instrument, as it's made of a wooden tube, covered in leather, and fingered in the way of recorders and other wind instruments, but it's played with the same cup-shaped mouthpiece as a brass instrument. It produces a very sweet tone, a little like a muted trumpet, and Venetian composers really exploited its ability to play very fast, flowing virtuosic music. It's also one of my absolute favourite instruments; if you've not heard it before, this concert gives you a chance experience its unique sound in the hands of some of the country's top performers.  
The following night, again in the cathedral, we jump forward to the 20th century for William Walton's choral masterpiece Belshazzar's Feast. Brass and wind instruments feature pretty heavily in the work's original scoring – including two (optional) offstage brass bands – but for this year's festival it will be performed in a brand new transcription for brass band, commissioned by DurhamBRASS, and played by the championship winning Reg Vardy Band. I'm singing in the chorus, along with about 100 other people from choirs across the North East, and at today's first rehearsal, I chatted to chorus master Mike Summers and BRASS Artistic Director Paul Gudgin about the project. Paul explained that although brass bands and choral singing are the two great amateur musical traditions in this country, there is very little music for both to perform together, so one of the things he wants to do in his role as Artistic Director is to develop new repertoire for bands and choirs. He and Mike had discussed various options and Belshazzar's Feast emerged as a clear winner, being a piece that would work well with brass instruments, and could showcase the virtuosity of the Reg Vardy Band. Paul's ambition is to commission more works for choir and band, with at least one transcription and one original composition in future festivals, and he spoke of his desire to see new works from the festival being taken up by other bands and choirs across the country, to build a new fusion of two great British musical traditions.
Belshazzar's Feast tells the story of how the mighty king of Babylon defiled the sacred vessels from temple in Jerusalem by using them at a banquet, and was then struck down by God, (after first being warned by the writing on the wall). The chorus switch between the laments of the exiled Jews, singing by the waters of Babylon, the riotous Babylonian party-goers, celebrating with wine, music and idolatory  – including, appropriately, praise to the 'god of brass', but the Jews have the final word in a magnificent song of triumph. It's heady, exciting music, full of jazz-inspired rhythm and harmony, as well as some very beautiful quiet passages.  and I'm really looking forward to being part of it. As I listened to the piano accompaniment in today's rehearsal, I tried to imagine how it will sound played by a brass band, and I'm already in awe of the skill and stamina that's going to be on show from the band.