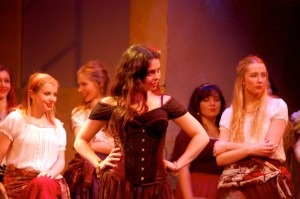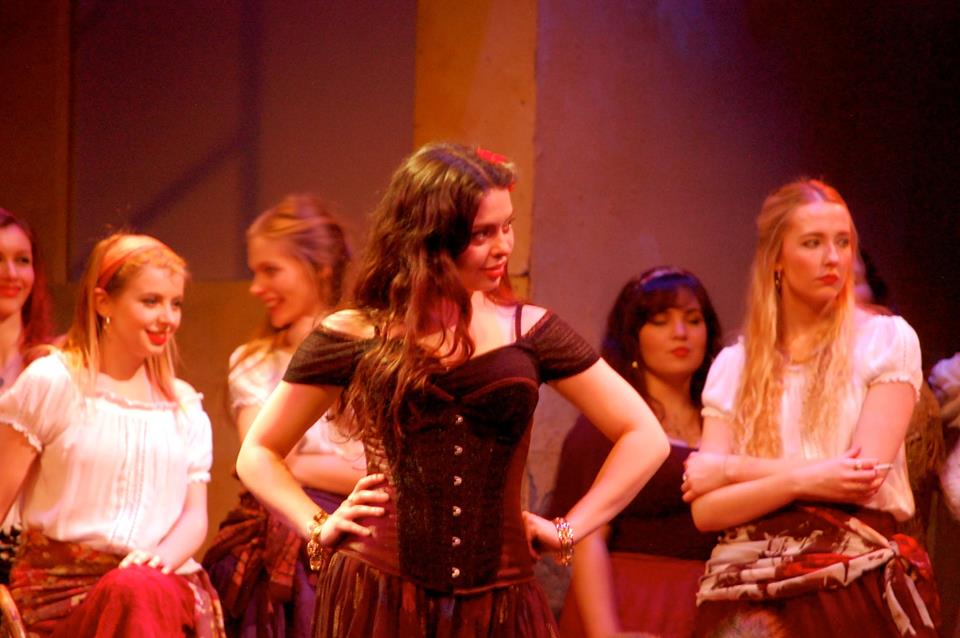 Durham Opera Ensemble's Carmen was set in the 1940s, but the time didn't really matter, and to be honest, I didn't even think about when the production was set until I looked at the programme notes afterwards. What was abundantly clear though, from the moment that the curtain came up on a set bathed in orange light, was the place: there was no doubt that this was going to be an unmistakably Spanish Carmen.

Sophia Smith Galer's credentials for the title role were impeccable: not only is she studying Spanish, but she spent part of her year abroad studying flamenco, and it showed not just in her dancing, but in every single movement she made. Smith Galer's Carmen was splendidly self-absorbed and controlled: everything she did is calculated for its effect on either the crowds around her or the men she's seducing. She sings the Habanera not because she believes it, but because it's what people expect of her, and her seductive after-hours dance in Lillas Pastia's was not for Don José but entirely for herself and her own pleasure. You could almost feel poor Don José's relief when the bugle call came.
Smith Galer was outstandingly good in the moments when Carmen's mask of self control slips – her wild-cat rage at being arrested, her horror when she realises what the tarot cards are telling her and finally her defiant pride during her final confrontation with Don José. Her singing matched her acting: passionate and filled with energy.
What this production really brought out was that the true tragedy in Bizet's opera is not the fate of Carmen – you know what's coming to her from her first entrance – but that of Don José, a man who should have been good and dull and ordinary. Philippe Durrant, making his DOE debut, played Don José beautifully, as a man completely out of his depth, letting everyone else make his decisions for him – Micaëla, his superiors, Carmen, her gang of bandits and Escamillo. His singing was a bit forced against the orchestra at times, but he sang the role touchingly, with a great deal of sensitivity and I'm looking forward to seeing more of him during his time at Durham.
It made a lot of sense that Durrant's opposite, Escamillo, should be played by someone who's been in Durham for a few years and is quite well-known to regulars at student productions. Escamillo is a pretty one-dimensional character, vain and empty-headed, and James Quitmann had a lot of fun playing up to Escamillo's status as the local celebrity bad-boy, dominating the stage with his physical presence and his fine bass voice; and there was real chemistry between him and Carmen. Smith Galer left us never entirely sure whether Carmen loves Don José, but we were left in no doubt about her desire for Escamillo.
Likewise, anyone could see that Don José could have been so happy with his Micaëla. Clare Ward was all sweet-voiced innocence, firm and assured amidst the moral decay around her. Her frightened confusion when the men in the square are harassing her was a touching antidote to Carmen's behaviour, as was her chaste delivery of his mother's kiss.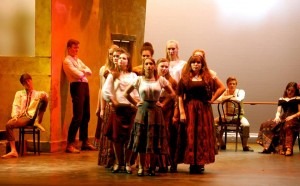 There was strong singing from all the cast, and the large chorus were particularly good. Among the excellent supporting roles I enjoyed the comedy double-act from Thomas Brooke and Sam Kibble as Le Dancaïre and Le Remenado, but the singer who really stood out was Julian Purdy as Zuniga – strong and clear, with a lovely round tone. I hope he can be tempted up from Queen's Campus more often. And special congratulations to the eleven children from Gilesgate Primary School and to the team from DOE who worked with them: they sang beautifully and confidently and delighted the audience in their antics as unruly off-duty choirboys, charging around the square making mischief.
Carmen is a tick-list of Big Tunes and Lewis Wilkinson's orchestra delivered them with swashbuckling panache; the blistering energy of the overture never ceased, adding to the atmosphere of Spanish heat of this production. Fortunately the singers were mostly strong enough for their musical lines to carry across the large orchestra, but I frequently struggled to catch the words – although really with Carmen the words themselves are probably the least important element, so they got away with it. One of my favourite bits in Carmen is the atmospheric flute solo at the beginning of Act III, which Tom Wills played with flowing gracefulness, but after it the orchestra were a bit heavy-footed. There was also some excellent brass playing and the orchestra really brought out the feverish insanity of the opera's final moments.
The sheer flamboyance and energy of this Carmen made it a delight to watch. It's a massive production for a student opera company to take on and it's testament not just to the musical talent in Durham but to the skills of all those people behind the scenes, organising things, building sets, and designing the production. Technical director Gabriel Finn and producer Jack Boyles did as much as the musicians to transport us to the seedy glamour of Carmen's Seville.