Until yesterday, I had assumed that public masterclasses were only really for people who are themselves serious students. If I'd ever had the chance to go to a recorder masterclass, I'd have been there like a shot, but singing masterclasses? No, surely not for the likes of me, I thought. But, then I was invited to the Samling Artist masterclass at Sage Gateshead this weekend, so I decided to give it a go. Just to make sure, I went with my friend Liz, who is a proper solo singer, working for a diploma, reasoning that if it was all beyond me, at least she would probably benefit.

A masterclass is basically a series of music lessons, held in public. In the case of the Samling masterclass, the students were this year's eight Samling Artists: six singers and two pianists, at the start of their professional careers, who have been selected for a programme of intense performance coaching and development. They get to work with singers, pianists, directors, actors and coaches from the highest level, and in the public masterclass at the end of a residential week, we get a glimpse behind the closed doors into this world, to see how the magic dust gets added. At one point, Olaf Bär, during his session working with soprano Kiandra Howarth on a Mahler song, more or less admitted that sometimes it is a case of just very subtly changing something, so that the audience can't pinpoint what it is that the performer's done, they just know that it's made the music special. As a reviewer, it cheered me to know that perhaps it's ok that I can't always say exactly why something has been so good.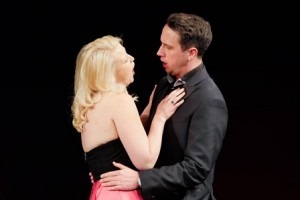 Liz came away from the masterclass bursting with ideas to try out on her own repertoire, but for me, I learnt more about how to listen to singing, which wasn't what I was expecting, but extremely interesting and useful. It was also helpful that there was a good balance of genres across the six coaching sessions: two Mozart arias with Ann Murray, two German Lieder with Olaf Bär and two English songs, led by pianist Caroline Dowdle – the pianists are just as much part of the Samling programme as the singers, and it was fascinating to see what sort of things they have to think about or pick out in the music. Personally, I found the German and English song sessions the most interesting; I had to work too hard during the two Mozart sessions to keep in mind the context of each aria, and my Italian is a bit hazy (it would have been helpful to have texts and translations to follow some of the detail in the German and Italian pieces). I'm not terribly good either on the German Lied repertoire, but listening to Olaf Bär working with Romanas Kudriašovas and Kiandra Howarth gave me a bit more confidence in how to approach it as a listener.
The most rewarding sessions for us, as listeners, I think, were the ones where the coach had let the singer and pianist perform the entire work at the beginning and end – although the pressure was then on the performers to remember to put everything into practice. The transformation that soprano Katie Lowe and pianist Finnegan Downie Dear achieved in Quilter's Fair House of Joy through a few little details was remarkable, taking from a nice performance to one that really drew me in and made me feel connected to the music.
One of the reasons I had been so keen to go to this masterclass was that one of the participants was Rowan Pierce, a singer whose progress I've been extraordinarily lucky and privileged to follow, ever since she sang her first Messiah with Durham Singers six years ago. Samling audiences have been following her progress too: she was a participant in the first Samling Academy programmes – a relatively new scheme for singers aged 14-21 who live or study in the North East and she's become the first Samling Academy member to move into the Samling Artist programme. I spotted a few younger Samling Academy participants in the masterclass audience, who will no doubt follow in Rowan's footsteps. What's particularly nice about the Samling Academy is that many of the people who coach for it have themselves been Samling Artists – it feels like a family organisation in which everyone wants to support and nourish the next generation.
After the masterclasses the eight students gave a short recital, mostly of other pieces – in fact I would suggest that repeating masterclass repertoire in a closing concert isn't a terribly good plan because the audience are listening out to see what you remember and apply from the class. After our little guest visit behind the scenes and getting to know these eight musicians, I enjoyed the chance to see them as everyone else will – polished performers, who will be enchanting many audiences with their musicianship and stage presence, with the addition of a bit of Samling magic dust.
To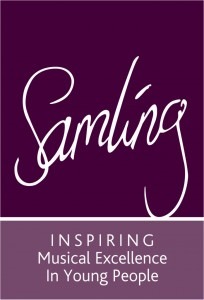 find out more about Samling visit www.samling.org.uk.
Photos (c) Mark Pinder www.markpinder.eu