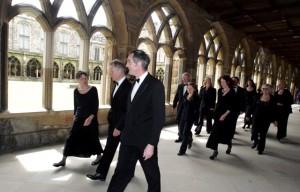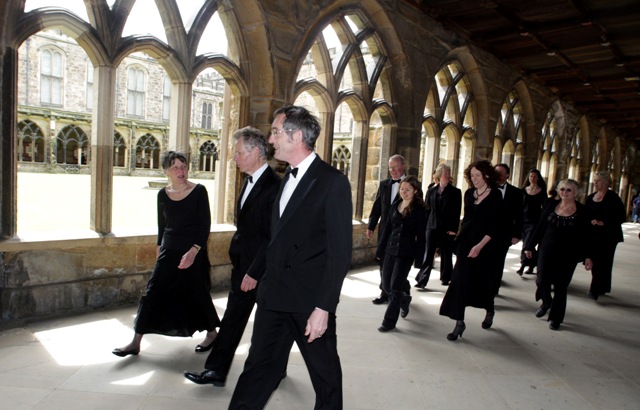 A guest review by Rob Barnes, presenter of Classical NE1fm
Durham Singers, Durham Singers Ensemble, Caroline Balding.
St Nicholas Cathedral, Newcastle, 3 Oct 2014
Amidst the truly spectacular History of Music flower festival in St Nicholas Cathedral, we heard music history being performed on Friday evening – three of the great works from the Baroque era, more precisely the 1720s, celebrating the work of Handel and J.S. Bach.
Handel's first commission following his naturalization as a British citizen was to write suitable anthems for the coronations of King George II and Queen Caroline in Westminster Abbey. The excellent Durham Singers performed these in an appropriate concert order, rather than the strict coronation service order. What can surpass the opening chords of Zadok the Priest for dramatic effect, especially when played on authentic instruments of the period – many hairs stood up on many necks. We will probably never get nearer to the real thing than witnessing choir and orchestra performing these fine anthems in a cathedral setting.
The decision to spread the four anthems through the concert, as indeed would have been the case at the 1727 coronations, made for a well-balanced programme, which enabled the audience to come fresh to each one. Performances were uniformly excellent, and I was particularly taken with the setting of My Heart is Inditing, written specifically for Queen Caroline.
The palate-cleansing sorbet between the courses of Handel, was provided by two of JS Bach's great instrumental works – his Orchestral Suite #1, and the Violin Concerto in E minor. The Ensemble, conducted effortlessly by Julian Wright, brought us back to the world of Bach and the instruments of the early 18th century – valveless trumpets, harpsichord and all. I have to pick out Inga Klaucke's fine bassoon in the opening overture to the Orchestral Suite. This was followed by the six polite, short dances in the French style to complete the work. We were transported back to an earlier time.
Renowned violinist Caroline Balding not only performed the intricate solo, but also led the players in Bach's Violin Concerto in three movements. She played with lightness, precision and passion, and brought out the very best in her musicians.
The finale was the stirring Handel anthem The King Shall Rejoice, performed with the joy and the spirit that the score demanded. It was a concert to remember through the long nights ahead – magnificent music, period instruments, the enthusiasm of a fine choir, all topped off by the cathedral setting, with its splendid floral displays and excellent concert lighting.
Classical NE1fm, presented by Rob Barnes goes out every Sunday evening from 7-9pm. Listen on 102.5fm or online at http://www.ne1fm.net/classical-ne1fm/
****************************************************
DISCLAIMER
As my regular readers know, I am a member of the Durham Singers, I look after the choir's publicity, and I was singing in this concert, but I'd like to stress that this is an entirely independent review from Rob Barnes which he has kindly allowed me to publish here.