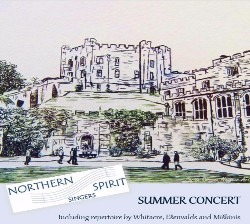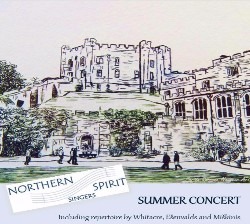 There's no shortage of choirs in Durham, but I don't think any group mixes things up in quite the way that Northern Spirit Singers do – where else do you get classics from the Tudor church and 70s disco sung with equal panache in one concert? Northern Spirit's summer concert at St Oswald's Church this evening started with a happily lilting performance of William Byrd's Sing Joyfully and ended with an arrangement of Earth Wind and Fire's September, but inside these two extremes, the programme's real focus was on contemporary music from Nordic and Baltic countries, both regions with choral traditions that are as strong and deeply rooted as our own.
The predominant mood of the evening was a blissful calm, with much of the music feeling very appropriate for the balmy peace of a Northern summer's evening, particularly the two pieces by the Latvian composer Ēriks Ešenvalds, Only in Sleep and O Salutaris Hostia which sent the sopranos Fiona Ponroy and Nerys Angel floating above a hushed accompaniment in free-wheeling solo lines that sounded improvised and effortless. Pieces by Morten Lauridsen, Eric Whitacre and John Tavener were similarly peaceful; I have to admit that I'm not a big fan of either Whitacre or Lauridsen, but Northern Spirit do their music very well, with immaculately sustained lines and I could hear them really enjoying the scrunchy harmonies that add brief moments of interest to Lauridsen's (in my opinion) highly overrated O Magnum Mysterium. Assistant MD Richard Bruce drew out beautifully shaped, long phrases in Tavener's Mother of God, creating a flowing and prayerful hymn.
Ola Gjeilo's Northern Lights turned out to be a setting of the Song of Songs text, 'Pulchra es amica mea', a text from the Song of Songs about the sort of intense beauty that inspires terror, and this came across strongly in Northern Spirit's warmly passionate performance, conducted by the choir's other assistant MD Helen Bloomfield. Mia Makaroff is a firm favourite of Northern Spirit Singers, and Butterfly was sunny and relaxed, with a gently swaying pulse.
Introducing two pieces by Vytautas Miškinis from Lithuania, Musical Director Clare Lawrence-Wills said that this was the first time she'd come across his music, and he was certainly new to me. O Sacrum Convivium was a deeply intense setting of Thomas Aquinas's famous text, with dense, tight harmonies and, I think I heard something of the Latin plainchant running through the music. The piece really blossoms part way through on the words 'mens impletur' and Northern Spirit Singers brought this out very strongly before the music settled into a hypnotic close, the men repeating 'O Sacrum' with a gently rocking swing, like a pendulum.
Completing the trio of the Baltic nations was Estonian Arvo Pärt, and his Morning Star brought us home to Durham, as it sets a prayer by Bede (the Latin version can be found on his tomb in the cathedral). The basses were rich and weighty in their detached accompaniment, and the whole piece was sung with a gentle momentum that felt full of hope. I was less convinced by The Deer's Cry which I though was a little too heavy to begin with but Northern Spirit were lovely when the piece broadens out, and at the end they brought it back down to a greater stillness.
The reflective mood was broken up by livelier moments, that gave the choir a chance to show off what they can do; they clearly thrive on technically demanding and exciting music, such as Mia Makaroff's Mita Kaikatat Kivonen which opened the second half with buzzy, funky energy, driven by lots of vocalising, and made doubly impressive by the fact that they had to do it all in Finnish. My favourite piece was on the programme was a truly thrilling performance of György Orbán's Daemon Irrepit Callidus which Helen Bloomfield conducted – the text is all about how the Devil tries to tempt innocent hearts with sensuality and gluttony, but is thwarted by the love of Jesus. Northern Spirit threw themselves into Orbán's colourful writing, spitting out the words in the threatening opening, and then seeming to let the music wind down and kick off again with renewed energy. At the end of the concert, Sydney Guillaume's Kalinda swerved abruptly away from Northern Europe, the music's pulsating African rhythms exploding out of the chattering beginning, and making a nice bridge to the closing disco number September in which the choir really let rip.