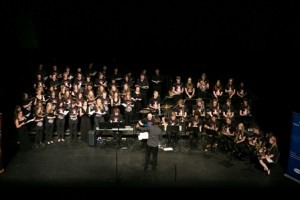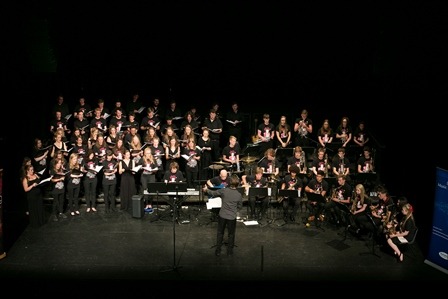 Thanks to the efficiency of the National Youth Choir of Great Britain's marketing manager, I was asked to review their BRASS 2015 concert with Durham County Music Service before I had noticed the small matter of a prominent early music consort doing a major work in the cathedral at the same time. Being honest (and I'm sure my regular readers know my tastes anyway), my automatic choice would have ben the Monteverdi – but I'm very glad that I found myself at the Gala Theatre instead, because I had a fantastically fun evening out with my 10-year old son, enjoying classics and new music from the Durham County Youth Big Band, Durham County Youth Choir and Darlington Youth Choir, and their guests from the National Youth Chamber Choir.
The trombones of the county Big Band got things going with a real swing in the first piece of the band's set, Lookin' Back , with the saxophones and trumpets rising to match them, and later the trumpet section shone with their muted tremolo playing in This can't be love. James Hamilton's Yorkshire Suite comprises movements written for bands of varying abilities; we heard the two movements written specifically for a youth band, beginning with a soft, warmly played melody that evoked the Yorkshire brass band tradition. Tom Joashi (saxophone) and Thomas McDonald (trombone) gave assured, stylish solos, and Max Goodall on keyboards shone throughout the evening.
The band were followed by the Durham County Youth Choir, conducted by Jim Morgan, singing jazz and gospel pieces. They managed the tricky job of being slick and polished without losing the feeling of uninhibited freedom that this sort of music needs. Joshua fit de Battle was particularly good, and showed off an impressively strong bass section. It was unfortunate though that their singing was marred by insensitive amplification, which distorted the voices and picked up a lot of unavoidable page-rustling.
The Call of Wisdom by Will Todd was written for the grandeur of the Queen's Diamond Jubilee service in St Pauls, but with its gospel-inspired simplicity and jazz trio accompaniment, this work by a composer who grew up in Durham seemed perfectly made for tonight's concert and the sweet freshness of girls' opening phrase was particularly lovely. The girls shone again in a gentle but lively I got rhythm that finished the choir's set.
The focal point of the concert was a performance by everyone involved, and conducted by NYCGB's Greg Beardsell, of Journey's End by Pete Churchill, a work jointly commissioned for BRASS 2015 and the City of London Festival which sets a song from Shakespeare's play Cymbeline – I began thinking I didn't know the text, until it turned out to be te bit that includes "fear no more the heat of the sun". Beginning and ending with soft hand-tapped drums, played with great poise by Peter Kirkman, the Churchill's work alternated nicely between the two groups, so that the singers could create a warm choral sound without having to compete with the lively band. Omar Shade's long, free-running saxophone solo felt like an improvisation, and was a delight to listen to, as was the sustained mellow sound of Matthew Robinson's flugelhorn solo.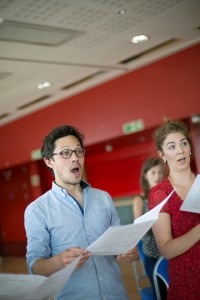 The National Youth Chamber Choir led up to Journey's End with a selection of other Shakespeare settings, mostly by contemporary composers but beginning with Vaughan Williams's Shakespeare Songs. These were written in 1951 as a test piece for choirs, requiring incredibly tight, disciplined singing and immense concentration – and were thus an excellent showcase for the NYCGB Chamber Choir who delivered them with aplomb. I've heard plenty of high quality choirs, but I was awestruck by the focussed, committed singing and the lovely legato tone. The highlight for me was the setting by New Zealand composer David Hamilton of Caliban's Song from the Tempest, beginning with breathy sighs and vocalisations, turning into a hypnotic, reverie as Caliban reveals his gentle, human side. We also enjoyed a bluesy setting of Sonnet 18 by Nils Lindberg, Sonnet 116 set as a tender anthem by former NYCGB member Owain Park and shining bright harmonies in Janet Wheeler's Sonnet 8.  The set finished with a splendid performance of It was a lover and his lass by Ward Swingle – difficult to do well, but they made it look and sound so easy and relaxed.
After Journey's End the combined choirs and band swung their way through Moonlight Serenade and finally, Chattanooga Choo Choo which made for a marvellous finale – so much fun that in keeping with the concert title, they did indeed agree to play it again.