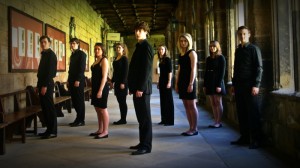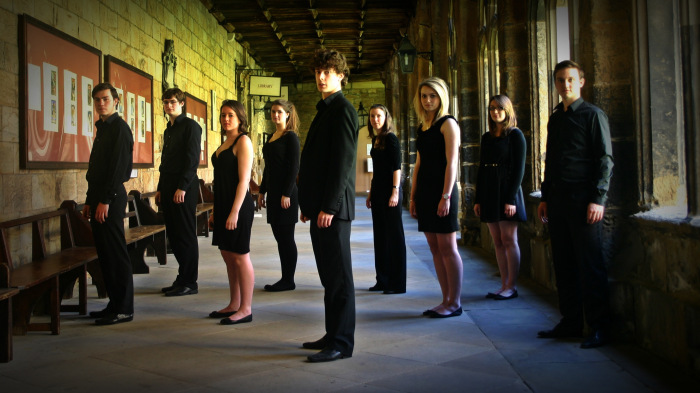 With All Saints, All Souls, Remembrance Sunday and the start of dark evenings, the beginning of November is a sombre time anyway, and this year the mood is enhanced by the First World War centenary. Making a welcome return to Durham, Ben Rowarth and his chamber choir Renaissance, put together an intensely emotional programme that dug deep into the darkness of November, mixing lamentations from the Spanish renaissance with more recent works by British and French composers.
Herbert Howells wrote Take him, earth, for cherishing as a memorial for John F. Kennedy, but the text, by the Roman Christian poet Prudentius, has associations too with Howells's own terrible loss of his young son Michael and his musical memorial Hymnus Paradisi. The opening unison phrases were sung very tenderly and with a noticeably richer tone than I remember hearing before from these young singers. Although in the big acoustic of the Durham Cathedral Chapter House the words were almost completely lost, Howells's distinctive melodies and intense harmony said it all, ending with an exquisitely moving resolution onto a shimmering major chord.
The death of a child is one of most terrible griefs that anyone can suffer, and the First World War saw the senseless slaughter of people's sons in their thousands. John Tavener's Exhortation and Kohima, written for the Festival of Remembrance in 2003 sets familiar Remembrance Sunday words – Laurence Binyon's "For the fallen" and "Epitaph" by John Maxwell Edmonds. Exhortation split the choir in two: those at the back of the room all singing high in their tessitura, against low, solemn singing at the front. The simple, unfussy singing evoked the sound of a bugle playing the Last Post.
The huge losses of a war a hundred years ago are hard to visualise, and we hear Binyon's words so often, in the annual formula of Remembrance Sunday that they are simply part of our cultural fabric. There is none of that though with James Macmillan's A Child's Prayer. Written in response to the massacre of children in Dunblane, this is uncompromising music of lacerating grief, and should only be performed sparingly, and with great care, in programmes such as this where it clearly has a place. The lower voices of Renaissance delivered a darkly intense hum on the word "welcome" and later the word "joy" was given an unbearable poignancy, whilst the two high, pure soprano voices of Camilla Harris and Charlotte LaThrope rose ever higher entwined above them.
Macmillan's Miserere, by contrast, was angry and bitter, although the Scottish snap-rhythms lost some of their bite and definition in the big acoustic. Sarah Johnston's lovely alto solo set up a radiant ending, and there were fine solos too in Ravel's Trois beaux oiseaux du paradis.
Threading through these stark, emotionally demanding pieces came the soaring beauty of Alonso Lobo's Lamentations and settings by Lobo and Victoria of the motet Versa est in luctum. These were sung with a stunningly rich intensity, which served as a soothing balm against the griefs expressed in the more modern pieces. Like many, I've been guilty of overlooking Lobo in favour of his contemporary Victoria – in my case I think the bland recording of the Lamentations that I have must be to blame, because sung by Renaissance they were rivetingly beautiful.
Poetry readings by Prof. David Fuller set up a different response: instead of complementing the grief of the music, we had sharp, blackly comic poems that reminded us of the stupidity and futility of it all, including Thomas Hardy's churchyard of skeletons disturbed by gunfire and Isaac Rosenburg's "queer, sardonic rat".
At the end of it all came the sweet peace of eventide, in a new setting by Ben Rowarth of Henry Vaughan's poem The Evening watch and William Harris's anthem double-choir Bring us O Lord God, setting a prayer by John Donne. My only complaint about the English-language settings on the programme was that apart from in the unison passages, the words were almost impossible to make out, and weren't given in the programme, so despite the lovely singing, there was a sense of something missing. Ben's piece mixed flowing hymn-like passages with more complex dissonances: it was music that was anchored firmly in the great traditions of British and European choral music that his choir sing so well, but with Ben's own distinctive touch. The glorious final cadence of Harris's anthem was the perfect way to end the concert, bringing some sort of peace and acceptance, soothing away the troubled emotions. If only it were so easy in real life.