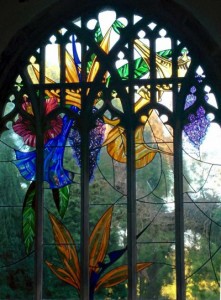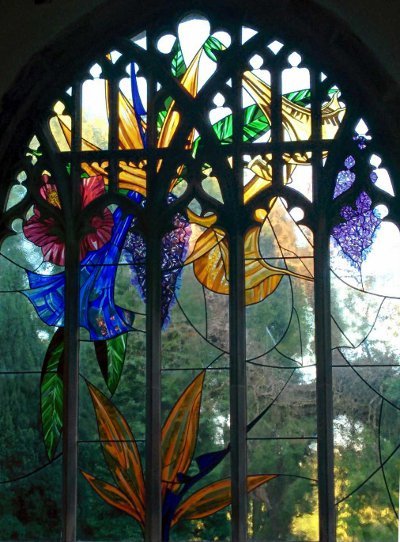 The extravagant tropical flowers in the new stained glass window at St Brandon's Chuch in Brancepeth formed the perfect backdrop for the pastoral lightness of Handel's Acis and Galatea, performed by The Bishop's Consort under the direction of David Stancliffe.
Acis and Galatea is described as a "pastoral serenata"; in practice this puts it somewhere between a full opera and Handel's cantatas. It's one of Handel's first works in English, and consists of arias strung together with the minimum of recitative. The story is simple, an everyday tale of nymphs and shepherds: in Act 1 boy and girl lose each other in the countryside, then are reunited. In Act 2, the boy is killed by a jealous giant but is given immortal life in the form of a fountain. It was written for Handel's patron the Duke of Chandos, possibly to mark the opening of new gardens at Cannons, the Duke's house; certainly the pastoral setting and the extensive use of oboes suggest an outdoor performance.
Handel's music for Acis and Galatea isn't his best, but it's all perfectly charming. The seven members of the orchestra kept everything bubbling along, particularly the two oboists Mike Brain and Isobel Brearley. Hugo Hymas and Charlotte La Thrope sparkled as the two lovers, particularly in their final duet of Act 1 "Happy We" – the danger with this well-known duet is that it can sound annoyingly smug, but here the freshness of it made me smile. Tom Brooke and Matthew Caine both put in strong performances in the smaller parts of Coridon and Damon. Tom Brooke sang Coridon's only aria "Would you gain the tender creature" with gentle kindness. The most characterful performance by far came from Ben Rowarth as the monster Polyphemus – helped, it has to be said, by having some of the best music and touches of typical Handelian humour. In his recitative "I rage – I melt – I burn", Polyphemus calls for a pipe big enough to fill his capacious mouth, so that he can woo Galatea. Lo and behold, the following aria, "O Ruddier than the cherry" is accompanied by the miniscule sopranino recorder, and was delivered by Rowarth with wit and spirit.
David Stancliffe's performances are usually put on with minimal rehearsal, to varying effect, but with Acis and Galatea a bit of roughness around the edges just helped to make the whole performance feel fresh and informal, perfect for a summer evening.
Any of my Dorset friends reading this might like to know that the Bishop's Consort are performing Monteverdi's Vespers in Milton Abbey on Saturday 19th July – tickets on the door. I think all the singers mentioned in this review are taking part.