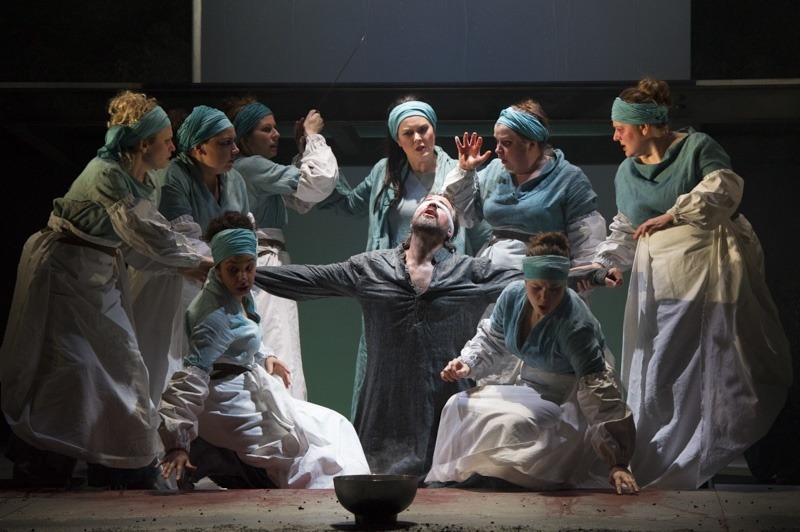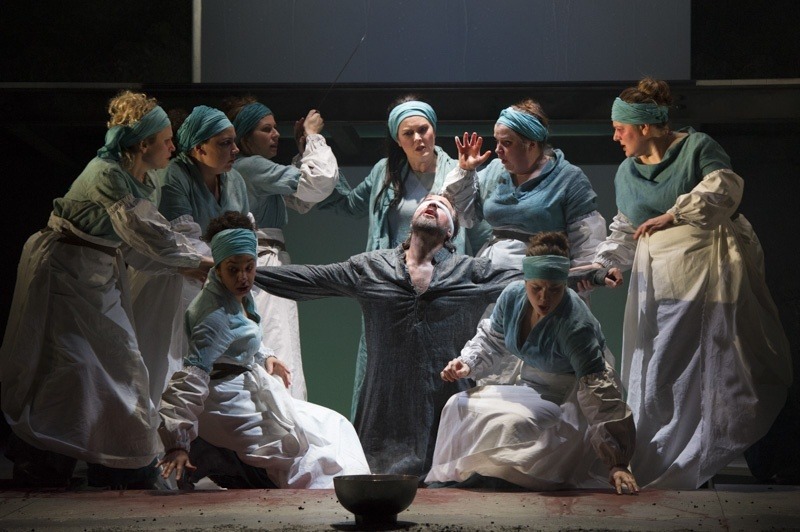 English Touring Opera's production of Gluck's Iphégenie en Tauride, which came to the Gala Theatre last night, is not for the faint-hearted, the orchestra's brief and stormy prelude plunging us straight into a world of unrelenting violence and madness. This is the dark side of ancient Greece, where there are no heroes, just a chain of brutality with one vengeful, insane death following another, and in which the gods have been reduced to little more than an excuse for human weakness – the backstory to the opera is the murder of Agamemnon by his wife, Clytemnestra, followed by her own murder by their son Orestes. Tormented by the gods or his conscience for murdering his mother, Orestes has been shipwrecked in the Scythian province of Tauris, where it turns out that his long-lost sister Iphégenie is serving as a priestess of Diana, carrying out King Thoas's orders to sacrifice all strangers to the goddess. As is required by the conventions of operatic plots, brother and sister fail to recognise each other until the drama reaches its climax. 
We begin, in that stormy opening, with Iphégenie and her priestesses in a religious frenzy as they dismember a human body for sacrifice. The scene ends with blood being squeezed out of the shapeless remains of the victim, squirting down onto the white tiles in a gruesome parody of a libation which was quite stomach churning. This was followed by the entry of Orestes and his beloved companion Pylade, and the sight of them being brutally beaten up and humiliated by the Scythian mob. This all made for uncomfortable watching, but there was a good dramatic point being made too; the frenzy of the Greek priestesses in the opening scene was contrasted sharply at the end of Act Two when they respectfully and tenderly carry out the funeral ritual for the soul of Orestes who they believe to be dead. Musically, the women of ETO's chorus perfectly matched the visual effects – crazed and terrifying in the first scene, carried away by bloodlust, and then full and very lyrical as they mourned their loss.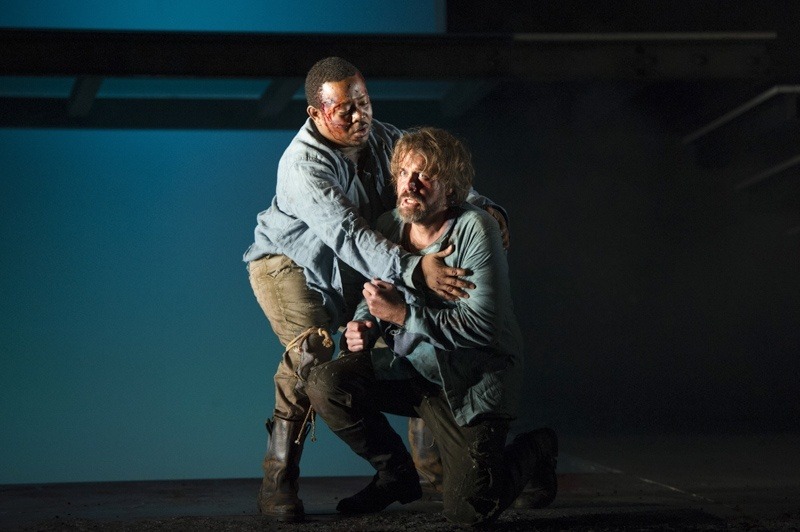 English Touring Opera bring reliably strong casts, on what must be an exhausting tour, taking in venues from Truro to Perth, and I was particularly impressed by the four main soloists in this production. Catherine Carby powered through the title role in an endless legato, bringing depth and nuance to Iphégenie's character, as a woman who is trying very hard to remain in control whilst not totally understanding what is happening. The smaller role of King Thoas, a character clearly battling his own demons and taking it out viciously on those around him, was sung in a fine performance by Craig Smith, who projected the king's anger with terrifying force.
Looking back through my ETO reviews, it seems that baritone Grant Doyle never disappoints and he gave another strong performance tonight as Orestes. He was well-matched with tenor John-Colyn Gyeantey singing Pylade; both men posses gorgeously velvety voices that were particularly lovely in their tender prison duet, and never losing any of their rich tone during their long and violent argument in Act Three over who should die. A high point was Oreste's mad scene, in which he is tormented by the Furies, visible only as disembodied arms waving through the bars of his cell. Grant Doyle and the orchestra all made the most of Gluck's dramatic scoring here, then ended in a lovely release of tension as Orestes tries to pull himself together. There's not a great deal of plot to this opera, but there's a sense throughout of human beings gradually freeing themselves from the control of their gods, which came through very strongly in this scene. It nicely matches Gluck's own historical position on the cusp of the baroque and the classical, moving away from the formalities and conventions of baroque opera seria to usher in a world in which opera can be about real people.
It's hard to see how Iphégenie en Tauride could possibly end well, but in a nod to baroque tradition, Gluck brings in a deity in the final act to tidy everything up, and engineer a happy ending. In an imaginative move, ETO have cast local trebles in the role of Diana instead of an adult soprano, so that the supposedly wrathful deity, in whose name all this horror has been carried out, is spiritually diminished to a mildly cross child. Played tonight by Jess Quigley, a chorister at Durham Cathedral, Diana in her white shift appeared like a sleepy little girl who had been disturbed by the grown-ups and had come downstairs to tell them quite firmly to stop being so silly – and she sang beautifully, tackling the grown-up soprano line fearlessly and diffusing all the aggression and tension of this troubling opera.
English Touring Opera return to Durham in November with a double-bill of baroque opera by Handel and Monteverdi (follow the links below for details).