Last night I was in Hall One at Sage Gateshead for a concert. Nothing new so far, but the difference is that this time I was there as a parent, seeing my son on stage playing the trumpet, among five hundred other children performing in the Durham Music Service Showcase. This event is a wonderful opportunity for young musicians of all standards to perform in a world-class concert hall, and a well-deserved chance for the Music Service to celebrate all the hard work that they put in, every day in schools across the county.
The concert itself brought together the various regional wind bands and orchestras, the top-level County Orchestra, Big Band and Choir and several specialist ensembles. The Cream Tees, a folk music group from Teesdale performed music that they had written themselves; an ensemble of 18 french horns, originally formed as part of an "endangered instrument" scheme, made it quite clear that horn playing is now thriving in these parts; and a signing choir of children with special needs was a lovely reminder of how music touches and enriches everyone. There were further performances throughout the day on the concourse: while I was there waiting after dropping my son off, I enjoyed listening to the training choir, a clarinet ensemble, and a brass band.
What really impresses me about Durham Music Service is how well coordinated all their activities are. They send peripatetic teachers into almost all of the state schools in the county, giving whole class tuition to younger children, as well as individual and small-group instrumental lessons, and they run the kaleidoscope of ensembles that performed yesterday. So, because the teachers know all of the children through their school work, they can recommend which ensembles children should join and ensure that children progress through the graded ensembles, starting at district level and moving up to regional and county ensembles. The head of the music service, Mike Summers, gave a few figures while the stage was being re-set: 80 teachers, 18,000 children, 8,000 instruments on hire and 160 ensembles. Although parents and schools do have to pay for lessons and instrument hire (albeit at a heavily subsidised rate, and I think children on free school meals receive free tuition), all of the ensembles are free, with funding coming from Durham County Council, Darlington Council and the Arts Council.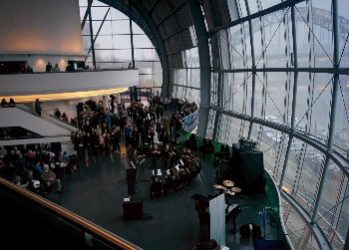 The standard of music making was extremely high from all the groups, and the children projected not just bags of enthusiasm and excitement but also extremely good musical discipline: credit goes to the Music Service staff not just for the excellent artistic results but also for the way that all the complicated concert logistics were handled so efficiently. The County Youth Orchestra in particular were notable for the way they went through all the traditional concert-platform choreography and etiquette, before launching into a bravura performance of Sibelius's "Finlandia" which I enjoyed immensely. The County Youth Choir gave an excellent performance of two new pieces by Will Todd, and a spiritual arrangement sung from memory, whilst the Durham County Youth Big Band closed the evening with some dazzling playing, finishing with "Steam Funk", written by a former band member.
We've been hearing so much bad news recently about cuts to music education and I don't doubt that these are very difficult times for anyone involved in publicly funded music teaching, although I do question whether this is actually anything new. Certainly the opportunities that my son gets here in County Durham far exceed anything that I had in Dorset in the 1980s, where most of my best musical experiences came via the church choir, private lessons and playing with friends of my parents. Later this week I'll be hearing the boy performing again, this time at his school concert. The standard of music at his school is really high, so I know that, like the Music Service Showcase, the concert will be a thoroughly enjoyable evening in its own right, not just a parental duty. I had assumed that music at this school had always been like that, but a friend tells me that when she was at that same school twenty years ago, it didn't even have a choir: now there are three. The Music Service staff also work incredibly hard, beyond their contracted lessons, to help with the general music making in schools: I know that on Thursday I'll see several of them giving up precious free time to support pupils in the school ensembles.
As I made my way through the crowd after the Showcase concert, among all the excited buzz, I heard one girl shout triumphantly "I did it!". That summed up the evening for me, and I hope Durham Music Service will continue to make excitement like this happen.
Mike Summers announced at the showcase that a new Friends of Durham Music Service is being set up to help support their work: anyone interested in finding out more should email paul.ryan@durham.gov.uk or telephone 03000 267208
Durham Music Service website: www.durham.gov.uk/durhammusicservice