As I scanned through the words of Schiller's poem 'An die Freude' last weekend before a performance of Beethoven's ninth symphony, one magnificent German word leapt out at me: 'feuertrunken', literally meaning 'drunk on fire' seemed to sum up pretty well how I felt at that moment. This wasn't just any performance of the Ninth, but the finale of Sage Gateshead's 'Big Beethoven Weekend', with five concerts, five orchestras and all nine symphonies across two days, and by the end of it, instead of feeling tired, each concert fuelled me with a new burst of life and energy.
Hearing the symphonies in this way, it seems no great surprise that Beethoven was drawn to the myth of Prometheus, the titan in Greek mythology who created humans from clay, and then gave them the fire he had stolen from the gods. Prometheus has a definite role in Symphony No.3, 'Eroica', where Beethoven developed his hero theme from a motif he used in his ballet 'The Creatures of Prometheus', but the titan's life-giving force and divine fire seem to hover over all the symphonies, whilst one of the themes that kept coming up in presenter John Suchet's on-stage interviews with the five conductors, was the transformative effect that Beethoven had on classical music.
The biggest discovery for me over the weekend was just how much fierce joy there is in Beethoven's symphonies, despite all the tragedies of his life – lost love, troubled relationships, family difficulties, and of course his own health problems and the slow, terrible loss of his hearing. John Suchet introduced each symphony with beautifully presented snapshots of Beethoven's life, to put each work in context, and it became a running joke with each symphony that no matter which year it was written in, it was 'a bad year for Beethoven' who seems to have lived a life of high drama, not helped by his own fiery temper – in fact, he reminds me of those characters from Dostoevsky's novels, who go through life with the emotional volume knob turned up to maximum.
There was joy for me as the Bournemouth Symphony Orchestra played the opening chords of Symphony No.1 simply because I was so pleased to be there: unexpectedly bad traffic because of a closed bridge meant I had slipped into the hall with seconds to spare before John Suchet's introduction, and I'd been fully expecting not to make it at all. The questing, exploratory mood of those opening chords, lost chords looking for their home key, also felt like a good way to start our journey. Having the Eroica in the first concert was nice too, (although it felt particularly heroic hearing it before I'd even had lunch) because it was at a performance of this symphony in 2011 by Northern Sinfonia with their former music director Heinrich Schiff that I suddenly started to get the point of Beethoven and began making my personal  journey back to him after many years of basically ignoring him.
Putting No.1 and No.3 together in the first concert then gave the BBC Scottish Symphony Orchestra, with Ilan Volkov, the chance to do full justice to Two and Four, taking them out from under the overbearing shadow of their powerful siblings. I enjoyed the playful, characterful nature of No.2 (parts of the first movement feel as if it's going to break into Mozart's Marriage of Figaro overture) and the crazy energy in the last movement No. 4, and came away vowing to listen to these two more often.
Introducing Royal Northern Sinfonia's performance of Symphony No.8, John Suchet talked about how the even-numbered symphonies are often considered lighter or inferior, and he quoted several people making a case for the greatness of No. 8. On listening to it here, I wasn't entirely convinced: it was fun, but nothing special. RNS played No.8 before No.7 – perhaps to give No.8 a better hearing, but I was so eagerly awaiting No.7, which remains my favourite of Beethoven's symphonies, that perhaps I didn't give it a fair chance. No.7 lived up to expectations – the 'Allegretto' flowing on relentlessly, growing in power after an exceptionally dark opening by the cellos and basses and the final movement a crazy dance that left me gasping for breath.
Symphony No.6, 'The Pastoral', could perhaps also have benefitted from being played out of sequence, because quite frankly nothing could stand unscathed in the wake of the scorching Fifth that we'd just heard from Vasily Petrenko's Royal Liverpool Philharmonic – this Fifth was, to my mind, the stand-out performance of the set. It was dramatic and stirring where it needed to be, Petrenko urging things along with dramatic stabbing actions, but the second movement was spacious and beautifully phrased and the oboe solo in movement one was the most magical moment in the two days, as Petrenko let time stop for his soloist, who held a packed Hall One mesmerised for those few seconds. And the last movement was a triumph, bursting with so much celebration and joy that I didn't want it to stop, ever.
Although after all this fire, the Pastoral was a bit of an anticlimax, it perhaps provided a way of descending safely back to earth with minimal damage and no crash landing from the Olympian heights of No.5. The Pastoral has always been a bit special to me, because it was the first piece of classical music I ever got to know. My ballet class (don't laugh!) did a performance to the theme from the last movement, so my mother played me the whole piece, and talked me through it all. Petrenko's performance was beautifully fresh, and made me feel again that I was that six year old child who was awfully upset by the storm, and overcome by the relief and loveliness of the ending.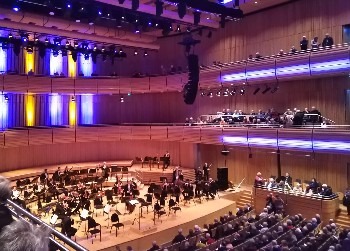 In his mid-concert interview, Petrenko praised Sage One as being the best concert hall in the country (a cue for big cheers from a loyal audience…) and that it had allowed him and the orchestra to find new things to do with the symphonies. However, whilst the whole weekend showed the hall at its best, it also made clear that the building's infrastructure can't really cope with a capacity crowd over a long period. Petrenko probably didn't have to park his car (half an hour to get off the roof-top car park because only one exit barrier was working); use the public loos (most of the ladies' loos had stopped flushing after a few hours, giving an unwanted festival atmosphere); or find anywhere to sit down to eat between concerts. On the other hand, the people working at the Sage must be congratulated for pulling off so smoothly what must have been a massive logistical challenge of managing the five orchestras and concerts: I'd love to have seen the spreadsheets and lists that must have been involved, and I was quite excited by the sight of the huge trucks of the BSO, BBCSO and RLPO all lined up together in the loading bays.
A recurring topic of conversation among people I chatted to over the weekend was the steadily growing size of the orchestras as the symphonies progressed, and the change of instruments, beginning with small forces and natural trumpets in the first concert, and gradually increasing in size, with trombones and piccolos making their symphonic debuts at No. 5. And then of course, there was the Ninth. After seeing this steady progression in band size and musical scale through the first eight symphonies, it really hit home how the Ninth exists in a whole new universe: bigger, longer, more complex and simply more ambitious than anything that had gone before. Sir Mark Elder and The Hallé Orchestra and Choir were magnificent, and I had a huge silent cheer for the choir even before they had opened their mouths when I realised they'd come on stage empty-handed. By singing without copies they were so much more connected to us in the audience, and, I felt, more engaged with the music. The Ninth was a blast, and it all flew by in a daze. I was one of those people who leapt to my feet the moment it had finished to applaud not just the musicians on stage, but the whole project and Beethoven himself. He's not my absolute favourite composer – Bach, Handel and Brahms will always have the closest place in my heart – but over the last few years, I've come to admire and respect his music more and more, and over this weekend found myself once again moved to tears by Beethoven's astonishing life-force, the grown-up version of that little girl who cried during the storm.