Breaking in the New Year with Bach
Guest review by Hugh Morris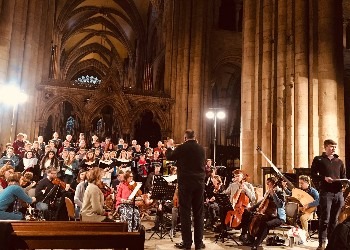 The conductor of the Durham Singers, Julian Wright likens Bach's Christmas Oratorio to a 'beautifully illustrated Christmas book', full of vivid colours and intense stories. It certainly occupies a special place amongst musicians, pages dog-eared and circled like a favourite, well-loved children's story. 
Part of the reason the work is a firm favourite among players and audiences alike is its form remains fresh. A combination of contrasting instrumentation between parts, the work's vast undertaking as a whole and the piece's original staggered function means we rarely hear the same format twice.
This was true for the Durham Singers's performance. Joined by the choir's period-instrument ensemble and soloists from the North East-based Samling Institute for Young Artists, Wright led the ensemble through four of the six parts of the Oratorio, supplemented by two short Bach songs.
The performance soon found its stride, given zip and vigour by a fine trumpet section. Through the opening solo exchanges, baritone Patrick Owston added the necessary injections of sprightly energy needed in Grosser Herr, o starker König, and Libby Clarence brought a refined air to her opening aria. There were moments of real ingenuity in the musical decision making; the inclusion of a separate semi-chorus of sopranos from the Samling Institute made a delightfully angelic foil through Owston's recitative, giving an ideal textual midpoint between soloist and full choir through the chorale reappearances. Wright's two additions – the song 'O Jesulein süss' and 'Liebster Immanuel' from BMV 123 – were a calm, welcome touch from the Durham Singers against a backdrop of articulate runs and lusty chorale lines.
Tenor Timothy Langston is gaining a reputation as a singer with a wide purview, as a full-time member of the Royal Opera House Chorus alongside lieder, oratorio and directing commitments. On Saturday, Langston was appearing as a member of the Samling Artist programme. He makes for a rich, full Evangelist, exploiting the dramatic tensions through 'Ich will dir zu Ehren leben', unhampered by occasional balance issues in the large continuo section. Highlights of the performance included the charming 'Echo' aria, shared between sopranos Zoë Jackson and Martha Cook, Jackson's powerful yet dexterous treatment of Nur ein Wink, and the final, triumphant chorale sung by all involved, giving the trumpets another chance to shine. Bravo to the young singers from Samling, the Durham Singers and Ensemble, and Julian Wright for a thoughtful, well-reasoned set of musical decision and total commitment to drawing the best out of all involved.
(c) Hugh Morris, 6 January 2019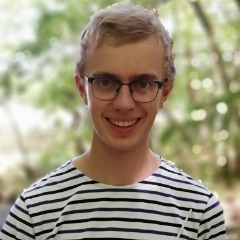 Originally from Durham, Hugh Morris is a musician studying and working in Manchester, and is active as a conductor, writer and performer across the North of England. His interests span Jazz, Contemporary Music, Brass Bands and Opera.
Hugh's reviews for Bachtrack can be found here.