Samling Academy provides opportunities for young singers who live or study in the North East to take part in intensive performance coaching, through a series of workshops, recitals and, every two years a fully-staged opera performance, often with involvement from present and previous members of the Samling Artists scheme for early-career singers. This year's Samling Opera performance is a baroque double bill of Henry Purcell's Come ye sons of art and John Blow's opera Venus and Adonis, and in an exciting new development for Samling Academy, they'll be joined by the early music specialist John Butt and members of his period instrument band the Dunedin Consort.
As they prepare for the final intensive week of rehearsals and performances at Barnard Castle and Sage Gateshead, two of the participants in this year's Samling Academy, Peter Dunn and Zoë Jackson, kindly took some time to answer questions for me about life as a Samling Academy member and their roles in this performance.
Peter Dunn: Bass
Peter Dunn has recently graduated from Durham University with a degree in music and will go on to study Vocal Performance at the Royal College of Music.
When did you start singing, and what was it that inspired you to take it up?
PD: I suppose in a way I fell into singing by accident. When I started at Ampleforth College I mistakenly ended up in front of Mr Ian Little, the director of music and Abbey choir conductor, who asked me to sight-read a small extract. Being a shy 13-year-old I of course did as I was told and he gave me a place as an alto in the choir. From there I started to receive singing lessons and by the end of my school tenure I had begun to take singing quite seriously. Those early days at school gave me an incredible foundation from which to develop a passion for music and singing and whilst I never at this time considered it as a career option, I knew that I always wanted to sing in some capacity – even if it was just the village choir!
How did you get involved in Samling Academy?
PD: I was recommended to audition for Samling by my singing teacher at Durham University, Miranda Wright. I owe so much to Miranda who, above everything else, instilled a sense of belief in myself and in my singing. After successfully getting a place in the Academy I haven't looked back and my passion for the art grows stronger every day. Having been a member of the Academy for two years, I can safely say that if it wasn't for Samling I wouldn't be pursuing a career in singing.
Tell us a bit about your experience so far with Samling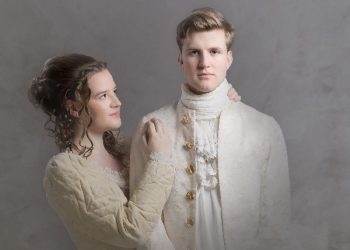 PD: Prior to joining Samling, my singing experiences had been largely choral with little focus on performing as a solo artist. Samling completely changed my perception of a career in singing and broadened my horizons into recital singing and opera. The workshop weekends have taught me so much, not just about singing but about performance as a more holistic art form. Of course, technique is a large focus of the Academy's training but crucially, Samling has given me the skills to develop as a performer as well. Workshops with fantastic stage actors such as Jimmy Garnon on stage presence and delivery of text, as well expert linguistic training with the charming Jean-Paul Pruna and lessons on interpretation with repetiteurs and vocal coach's like James Baillieu have all allowed me to cultivate a confident and convincing presence on the stage.
What are your role(s) in the upcoming production?
PD: In the first half I'm sing the bass aria in Purcell's Come, ye sons of art as well as the choruses. In Blow's Venus and Adonis I am a member of the chorus but am also singing the bass part in the Graces scene.
What have you enjoyed most about the preparations for Samling Academy Opera?
PD: I enjoy the fact that it's a really small cast (only 12 of us I think) and that we are all extremely close already. Its nice when there's a real sense of community and teamwork when rehearsing for an opera, it makes the whole process really enjoyable.
What's been the most challenging part of it?
The dancing – I'm pretty uncoordinated…
What have you learned from working with John Butt and what are your expectations about working with period instrument specialists?
PD: John Butt is an extremely inspirational and hugely skilled musician, but also just a really kind and friendly man. His extensive knowledge of Baroque music and its historic relevance has had a significant effect upon how I look at the genre as a singer; the vibrancy of the text and the intrinsic relationship between music and dance for example are values that previously I had missed.
What are your future singing ambitions?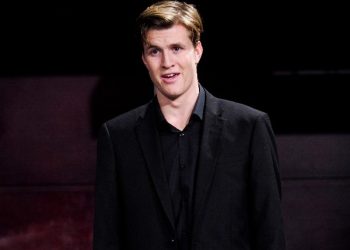 PD: In September I am starting as a postgraduate at the Royal College of Music. I see training at conservatoire to be an essential stepping-stone in forging a successful career in opera, which is the ultimate goal. Of course it is still very early days in terms of my vocal maturity etc. but I hope one day to be able to live comfortably through singing.
Do you have a dream opera role that you'd love to sing?
Don Giovanni is one that's always been an ambition of mine, although I do love Eugene Onegin as well.
What music do you most like to sing? And what do you listen to when you're not singing?
PD: Having just taken on the role of Papageno in Die Zauberflöte I'm tempted to say Mozart. His music is perfect for young singers however it is also deceptively challenging in that it leaves you really exposed musically and theatrically.
What advice would you give to younger singers who might be thinking about taking their singing further?
PD: Find a good teacher who you think is honest and whom you can trust. That will get you a long way.
Zoe Jackson: Soprano
Soprano Zoë Jackson was one of the first girl choristers at Durham Cathedral, eventually becoming Head Chorister, and she has been a member of the National Youth Choir of Great Britain. She has studied on Sage Gateshead's Young Musicians programme and has been a member of Samling Academy since 2016.
When did you take up singing, and what was it that inspired you to take it up?
ZJ: I was in primary school, so I must have been about seven. The Durham Cathedral Choristers came to my school to sing as part of their Outreach Scheme and I remember being in total awe. I wanted to do that! So when they announced they were bringing in female choristers I auditioned. I sang 'Be Still for the Presence of the Lord' and I remember it going awfully! I didn't expect to get in at all, especially having no musical background at all. However, I was very fortunate to have been accepted, so became a chorister. I then met Miranda Wright, my singing teacher, and I've never
looked back.
How did you get involved in Samling Academy?
ZJ: Miranda recommended me to audition. She has had students who have been in Samling Academy in the past and continue to audition due to the fantastic experience. I also had friends who were involved with it and thought it was too good an opportunity to not give a go.
Tell us a bit about your experience so far with Samling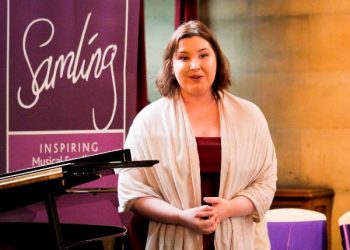 ZJ: So far I have participated in two years of Samling Academy which includes four weekends of intense training with world-class professionals. I was also involved in last year's summer concert 'When I was One and Twenty', accompanied by Samling Artist pianist Ian Tindale and directed by Miranda Wright, which we performed at The Witham and Saltburn Community Theatre. I was also lucky enough to sing as part of the Samling Academy chorus at 'A Night at the Viennese Opera' 21st Anniversary Gala concert at the Sage Gateshead last year with Royal Northern Sinfonia and Sir Thomas Allen. I also performed alongside three other Samling Academy students for HRH The Duke of Gloucester last year at Matfen Hall.
What is your role in the upcoming production?
ZJ: I am singing the role of Venus. Venus is the Goddess of Love and mother of Cupid, played by Samling Artist countertenor Tim Morgan. She is also completely in love with Adonis, sung by Patrick Owston. She's quite a strong character throughout the opera, as you would expect with her being a queen and a goddess. However, in the final act she struggles to remain dignified and collected through the sheer heartbreak of a series of tragic events, which is only heightened by the way Blow has scored the music.
What have you enjoyed most about the preparations for the Samling Academy Opera?
ZJ: I've loved learning about Baroque movement and dance, something I was initially dreading. With the amazing talents and help of choreographer Mandy Demetriou, I've been able to experiment with different ways to make it feel as natural as possible. Proof that anyone can do this if I can! I also LOVED the trip to the costume hire warehouse… It was like a wonderland!
What's been the most challenging part of it?
ZJ: Again, I think the dancing was the most challenging, as well as the acting. It's quite daunting having to act like you love someone, whilst trying to make it come across as natural as possible – particularly in the first act of Venus and Adonis, which is quite intimate. Though it has become much more natural through practice and great direction.
What have you learned from working with John Butt and what are your expectations about working with period instrument specialists?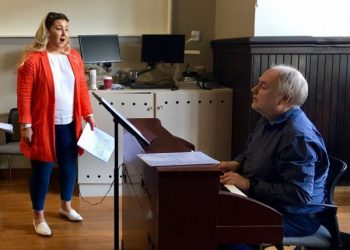 ZJ: I've learnt a lot from John. He's a real inspiration and is so obviously passionate about what he does. With his guidance, I've learnt to trust that the Dunedin Consort will follow what we're doing especially in the obbligato sections with the oboe and recorder. I expect it'll be a new experience singing with period instruments as it's not something I've ever done before, but I'm looking forward to it! They're the best in their field and it will bring everything together and be the icing on the cake!
What are your future singing ambitions?
ZJ: I'm hoping to audition for music college soon and continue training as a singer. I'd love to try and take it as far as I can. With the help of Samling Academy, I've been able to have a snapshot at what life in a music college will be like. It's amazing to have something like Samling on the doorstep. The likes of the Royal Academy of Music and the Royal Northern College of Music have junior departments, which prep younger students for life at a music college, but there's nothing like that in the North East. Samling Academy offers me an extremely high level of training and allowed me to perfect my performance preparation and delivery, as well as my language and music learning and understanding. It's something that I feel has really helped me make great progress over the last couple of years.
Do you have a dream opera role that you'd love to sing?
ZJ: I do! I would absolutely love to sing the role of the Countess in The Marriage of Figaro one day. She has the most beautiful yet tragic arias. I think she's wonderful.
What music do you most like singing? And what do you listen to when you're not singing?
ZJ: I love singing Lieder – Strauss is a particular favourite at the moment. I do love singing opera but the temptation to sing the huge arias is too much sometimes! When I'm not singing I love listening to film scores, though most of the time I listen to swing and have an affinity for anything from the 50s and 60s.
What advice would you give to younger singers who might be thinking about taking singing further?
ZJ: Be patient! Enjoy your journey to being a singer – it's a long one! And make the most of each performance. Of course to keep studying languages too!
Finally do you have any other local performances you'd like to mention?
ZJ: I've recently had the privilege of being asked to sing as the soprano soloist in Bach's Christmas Oratorio as a Samling Academy representative with the Durham Singers in Durham Cathedral in January. I'm really looking forward to learning and preparing for that next term!