You may have noticed that this website has been a bit quiet recently. It's been one of those times when suddenly everything happens at once, and for the last few weeks, I've been caught up in a whirlwind of an exciting new job, filling the cathedral for a Durham Singers concert, and helping out with preparations for the Society of Recorder Players National Festival which comes to Ushaw on 13-14 April, where you'll be able to hear a feast of recorder music, from the middle ages to absolutely brand new pieces, played on instruments of all sizes.
The Society of Recorder Players is a national organisation for amateur recorder players, with regional branches organising regular playing sessions and other activities for its members. The national Festival is hosted by a different branch every year, and gives members a chance to come together to play music together in a diverse selection of group playing sessions, with music from across the centuries, and featuring all sorts of different sizes of recorder. Usually, the festival is hosted in a school building or similar, but this year, by having the event at Ushaw we've been able to add all sorts of extra events on to the core festival activities to showcase the recorder to a wider audience.
Fringe Festival
If you follow BBC Young Musician of the Year, you'll remember that in both 2012 and 2014, recorder players made it through to the concerto finals. Those two young players, Charlotte Barbour-Condini and Sophie Westbrooke will be performing at Ushaw during the festival, along with other talented young emerging professionals as part of an informal fringe festival, giving free pop-up concerts around the historic buildings. I'm particularly intrigued by 'A Handel on Jazz', in which Tom Ridout (another BBC Young Musician, this time from the jazz competition) and his trio create jazz improvisations on Handel's recorder sonatas. The art of improvisation makes for a strong link between baroque and jazz music, and I'm looking forwarding to seeing what Tom and his trio come up with.
Composers Competition
One of the joys of being a recorder player is that there's a lot of new music being written and composers are increasingly recognising the versatility that comes from such an apparently simple instrument. In another new venture for this year, the festival is hosting the finals of a new composers competition sponsored by the SRP, and to be judged by the SRP's President, Jonathan Dove. The young quartet BLOCK4 will be performing and workshopping the shortlisted works in open and under-18 categories throughout the day in the Theatre at Ushaw. Come along at 3pm to hear all the finalists' entries and cast your vote for the audience prize.
Other concerts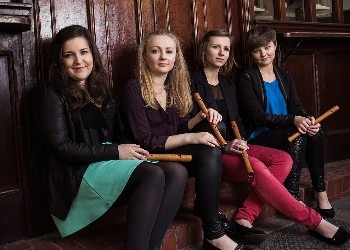 The two winning entries in the composers competition will be performed again by BLOCK4 at a free concert on Sunday 14 April at 1.30pm, in the Theatre. The rest of their programme is called 'Stargazing' and features music inspired by the heavens, from the middle ages to the present day. There's also a family concert at 11am on Sunday 14 April by Lux Musiciae London, who perform on a mixture of early instruments, including recorder, harp and lute and they'll be taking us on a musical tour around 16th and 17th century London.
Masterclasses
For me the most exciting bit of the festival will almost certainly be the public masterclasses with Joris van Goethem of the Flanders Recorder Quartet and the legendary Piers Adams. Masterclasses are basically a public lesson: the participants will have prepared a piece, which they perform and then work on with the masterclass leader in front of an audience. Having been to singing masterclasses as an audience member, I know they can be a fascinating experience and a useful way to pick up some tips on technique and interpretation. This time the boot is on the other foot, as I've been given the chance to take part in Piers Adams' solo masterclass as a performer. The theme of the masterclass is 'Stolen Music: Music transcribed for the recorder'. I've picked a Sarabande from one of the Bach cello suites – come along to the William Allen Gallery in Ushaw at 3.20 to hear what Piers makes of my interpretation. The other masterclasses are on Sunday morning with Joris van Goethem who is giving one masterclass for recorder quartets and one for solo players on the Telemann Fantasias.
Full details of the SRP National Festival can be found here: www.srp.org.uk/national-festival/
Although the public festival events are free to watch, normal admission fees to Ushaw apply: for details see www.ushaw.org