A lot of excited adjectives get bandied around about Red Priest, particularly their frontman, the recorder-playing god that is Piers Adams. They command the sort of attention and adulation of a rock group, and it so was no surprise to us on the organising committee when their concert to open this year's Society of Recorder Players National Festival sold out to festival-goers almost instantly (certainly the easiest concert publicity job I've ever done!). Somehow, I've never got round even to listening to them, let alone seeing them live, and I think a part of me suspected from the way that they are marketed that their performances were principally about showmanship, so I was quite keen to go along and see what all the fuss is about.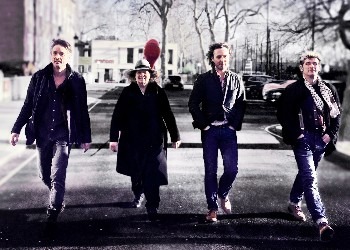 The concert also marked the start of their UK tour of a new programme (they've already taken it around New Zealand). Always a group with an eye for a clever title, with 'Truly, Madly Baroque', Red Priest go back to their roots as a baroque quartet after exploring gypsy music in their recent 'Baroque Bohemians' programme. It's truly baroque, in its use as a historical term and it's madly baroque in the sheer extravagance of the group's playing. And it's 'truly, madly' because the programme includes the Bach cello adagio that was used in the film with a similar title.
As I expected, there were indeed plenty of fireworks, not just from Adams, but also from his partners-in-crime: violinist Adam Summerhayes, cellist Angela East and harpsichordist David Wright. Between them the four musicians exuded a phenomenal amount of energy on stage, continually sparking off each other, and sitting politely in a theatre seat felt far too sedate: I wanted to be listening to them in the pub, with a pint (or more). They began by going not just back to their baroque roots, but back to their very name, with an arrangement of a Vivaldi concerto originally for four violins (RV580). This was high octane stuff ― fizzing with energy, which was exciting to begin with, but as the concert progressed, it all felt a bit too much to take in all at once, and I yearned for a bit of calm. They powered rapidly through a cheeky arrangement of Pachebel's Canon, and Gigue in which for once the cello was spared the misery of grinding through the same eight notes and had the first violin part instead, and with Adam Summerhayes giving a freewheeling gypsy-inspired performance of Locatelli's virtuosic violin piece Labyrinth as an interlude between the two movements.
Although I was getting a bit weary of being blasted by the raw heat of the Red Priest energy, I couldn't resist the freshness and vigour in their arrangement of Bach's Brandenburg Concerto No.5. I find the long harpsichord cadenza in the first movement is the most exquisite form of torture, with the theme always tantalisingly out of reach as the harmony goes off on endless diversions. Adams and Summerhayes added to the pain by helping Wright along with deadpan emphasis of the bass-line, but when the theme finally returned they whizzed through it at such a breakneck speed, that it slightly spoilt the immense sense of release that it brings.
There were some restful moments in the programme: Albinoni's oboe concerto (op 9, no2, in D minor) was gorgeously played, and Adams let the slow movement sing, as he did again in the slow movement of the Brandenburg. In the Bach cello sonata Adagio, Summerhayes and Adams serenaded Angela East, framing her cello line with adoring responses to her music. The group decided that L'amiable by Joseph-Nicolas-Pancrace Royer sounded like French café music, so Summerhayes swapped his violin for some sort of blown-accordion instrument (Wikipedia suggests it may be a melodica) to great effect.
As a recorder player, I was of course fascinated by Adams's technique, particularly his imaginative articulation and percussive tonguing, and, when he slowed down enough for us to appreciate it, his ability to bend the tone to great expressive effect. He's helped by a spectacular array of instruments, some with keys to provide extra dynamic effect (if you want to push the limited dynamic range of a recorder, you need to use alternative fingerings to stay in tune, and I think the extra keys add to the possibilities available), and effortlessly switched through different instruments, sometimes even within a single movement. I think I counted about 12 lined up in an impressive case hung on the side of the harpsichord, which, Adams explained, also ingeniously incorporated a hot-water element to keep the head pieces warm (the rest of make do with shoving them into our waistbands, but I don't think Adams' leather trousers would cope with so many).
The programme ended with a real showpiece for the whole band: Summerhayes' arrangement of Giuseppe Tartini's sonata The Devil's Trill. There were faintly disguised hints of tango in the largo, a diversion into a spot of bluegrass violin, building up to all-out craziness. If I'd been that pub, I'd probably have been dancing on the table by this point.