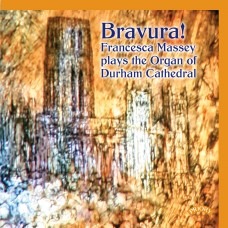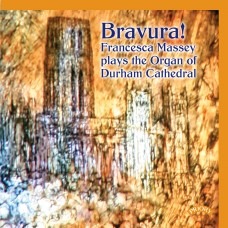 A guest review by Julian Wright of Francesca Massey's new CD Bravura! recorded on the organ at Durham Cathedral, where she is sub-organist.
Francesca Massey's new CD brings a symphonic range of colour and much fresh music to the catalogue of Durham-based organ recitals that have emerged over the last few decades. Her repertory is chosen to reflect largely less well-known works that give her a showcase for the beautifully balanced palette of Durham's Harrison and Harrison organ. With an emphasis on the late romantic, tipping into the modern, the recital gives us an opportunity to hear a developing virtuoso, at ease in the rapid whirls of sound in the later music by Egil Hovland and Francis Pott, but who is nonetheless deeply sensitive to the sonority of the organ and the acoustic of Durham Cathedral. 
Less frequently heard pieces by Marcel Dupré, Jehan Alain and Olivier Messiaen set up a French perspective on this exploration of late-romantic sonority. Messiaen's Diptyque looks forward to some of his later ecstatic melodies in its second movement, though his first belongs more firmly to the tradition of Dupré, full of swirling chromatic chords. The important pieces by York Bowen and Oskar Lindberg emphasize the European-wide world of dark chromatic harmony which Durham's well-balanced chorus always presents clearly; its growling reeds never sound overblown and its wood stops always leaven the texture as in the Adagio of Lindberg's sonata.
Most exciting of all is the serious tone but kaleidoscopic palette of Matthias' Variations on a Hymn Tune, a wonderful concert piece for Francesca Massey, who draws deep expressive colour from the instrument, discoursing between the different reeds of the swell and choir in the central movements, and showing off the spatial separation between tubas and swell and great choruses in the last movement, giving a real sense of being at the heart of a major orchestral exploration on the organ. Pott's Empyrean grows into a dazzling blaze of colour in a bright, ecstatic toccata that brings the recital to a close.
Her command of colour, sensitivity to the time needed for harmony to tell acoustically, and effortless virtuosity, all lead me to wonder whether Francesca Massey's Durham discography might develop with more sustained examinations of late romantic masters like Reger or Dupré. Her knack for drawing on less well-known repertory – keeping the repertory alive and showing off the brilliant colour of the instrument – is, however, just as important and should be applauded; so perhaps too we could also request an all twenty-first century disc?
Julian Wright, August 2015
Bravura! Francesca Massey plays the organ of Durham Cathedral
Priory PRCD1137
Recorded 22-24 Sept 2014
Available here at www.prioryrecords.co.uk