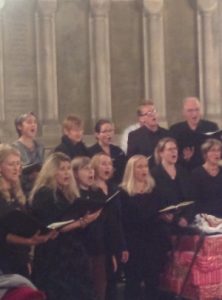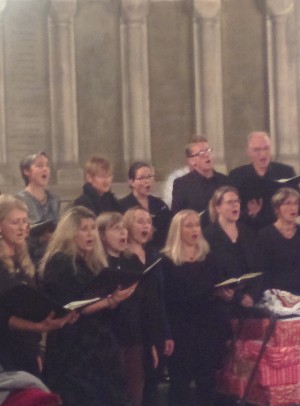 I've had a lot of fun this week making friends with members of a choir from our German twin town Tübingen. Chor Semiseria have been visiting Durham this week, finishing their trip tonight with a concert in the cathedral with Cobweb Orchestra and Durham County Youth Orchestra. They're clearly a choir that takes their singing more than semi-seriously, because as well as taking in all the sights, they arranged joint rehearsals with Durham Choral Society and with us at Durham Singers, and they're so unstoppable, they even carried on singing in what turned into a very lively pub session afterwards. This group have a lot in common with us and we're looking forward to seeing them again when we visit Tübingen next September.
The main event in tonight's concert was Mozart's Requiem, preceded by a short, well-chosen selection of orchestral pieces. The two groups playing reflect in their own way how lucky we are in County Durham when it comes to opportunities for making music. Cobweb Orchestra is an organisation for amateur orchestral players – their mission is to encourage anyone who used to play an instrument to 'dust off the cobwebs' and get playing again, whilst the County Youth Orchestra are one of the top level groups of Durham's excellent music service, funded by the County Council. They began with Mozart's overture to the Magic Flute: the Cobweb conductor Andy Jackson gave the opening phrases lots of space, and a stately pace before breaking out into the livelier section with some very attractive solos from the winds. Complementing the theme of the Requiem, the orchestra then played an interesting arrangement by Jackson of Allegri's Miserere Mei, with each repetition of the chant and alternating polyphonic verses being taken by a different set of instruments. The brass version of the chant was particularly effective, and I liked the fact that he saved the flute, the obvious candidate for the famous high solo line, for the very last variation. To finish the orchestral section, the County Youth Orchestra's conductor, Rebecca Howard led the groups through two movements from Warlock's Capriol Suite, ending with a lively rendition of 'Mattachins'.
Chor Semiseria delivered a punchy performance of Mozart's Requiem, and clearly enjoyed making the most of the cathedral acoustic, with their conductor Frank Schlichter giving plenty of big pauses for the sound to ring round the building. They didn't fall into the trap of creating a wall of sound though, and each part was clearly defined in the fugues in the opening 'Kyrie' and the final 'Communio'.There were some nice dynamic contrasts in the 'Dies Irae', particularly from the tenors and basses, and the very different colours of the male and female parts in the 'Confutatis' came across well. Schlichter took most of the choral movements at a good pace, with an impassioned sense of urgency driving the music on, something that came out particularly strongly in the 'Lacrymosa' and 'Hostias'. The 'Sanctus', by contrast was regal, and Schlichter brought out all the emotion of the the final cadence before the closing fugue of the 'Communio', on the words 'luceat eis' ("[perpetual light] shine upon them"). We also had a brief opportunity to hear Semiseria singing unaccompanied, as they included a short Amen after the 'Lacrymosa' from a fragment left by Mozart which Süssmayr left out when he created his completed version of the Requiem (there were no programme notes, but as the rest of the Requiem sounded pretty familiar, I assume they were singing Süssmayr's version).
The soloists spend quite a bit of time in the Requiem singing as a quartet, so it was nice to see four familiar young singers who've often sung together in various combinations, returning to Durham this evening. Soprano Ana Fernandez Guerra, mezzo Charlotte Heslop, tenor Hugo Hymas and bass Ben Rowarth have all sung for Durham Singers and for other local choirs and their voices were beautifully well-balanced and blended. It's been a little while since I heard Ana and Charlotte, who are both now at music college, and it was a delight to see how their voices have developed. Charlotte's powerful alto has always astonished me, and she's now developed a much richer, darker sound, and Ana's luxurious soprano tone just gets better and better.
I didn't get a chance to take a photo during the applause, but when I went out to the Chapter House to say goodbye to my new friends in Semiseria, I found that this indefatigable bunch were STILL singing, exploring the Chapter House acoustic with someone's setting of Ubi Caritas, so I took a quick picture. I'd really like to hear them singing a full programme of unaccompanied music, so hope they'll come back to Durham soon.
@Semiseria – vielen Dank, dass Ihr uns in Durham besuchen habt. Es freute mir so sehr mit Euch zu singen, und bier mitzutrinken, und ich hoffe herzliche, dass wir uns bald weitertreffen.
You can read Semiseria's own account of their visit here: www.semiseria.de/testseiten/reiseblog-durham/