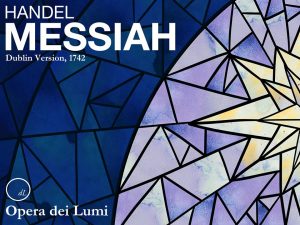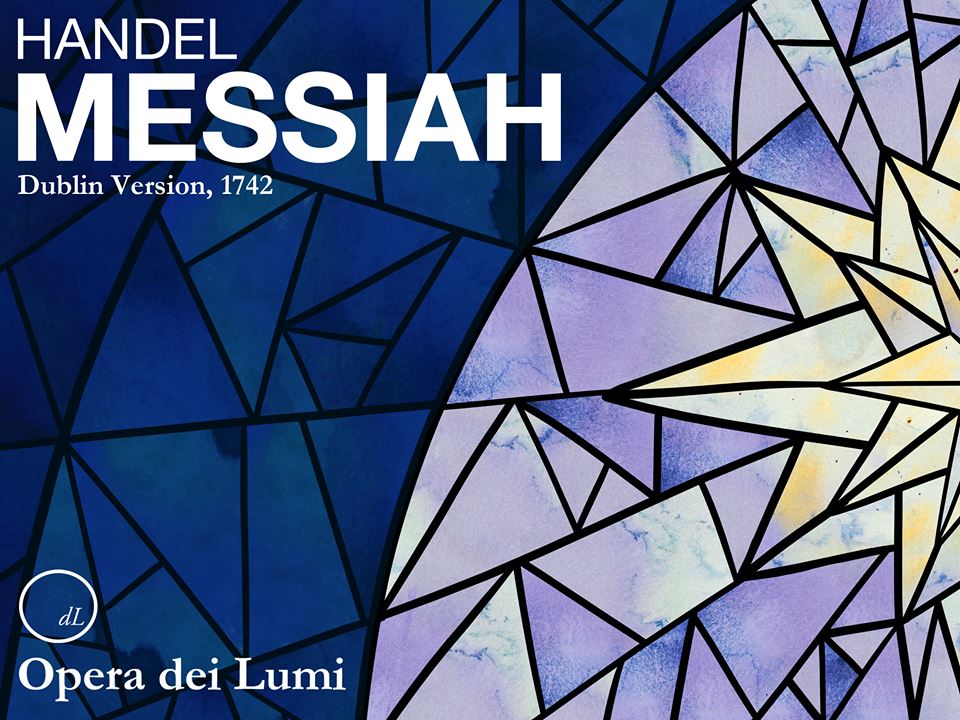 Stop me if I've said this before (I know I have…), but I often wonder how it felt to be at the first performance of a piece of music that has become a deeply embedded cultural cornerstone. How did it feel to hear Beethoven's Ninth, Bach's St Matthew Passion or Handel's Messiah for the first time, fresh and new, with no idea of the significance and love that these pieces would acquire? Opera dei Lumi's performance of Messiah at Ushaw this afternoon took us back to its first performance one April night in Dublin in 1742 not just through the version of the music that they sang, but in a fresh and vivid performance, that was full of surprises for me.
The singers of Opera dei Lumi are all students or recent graduates of the Royal Conservatoire of Scotland, and although their biographical note says they specialise in performing music from the Enlightenment, with a focus on Mozart operas, they were all clearly very much at home with Handel, as were the orchestra who gave a stylish performance, (playing on modern strings, with natural trumpets).
Director Peter Keenan used eight singers, all of whom took solos, but having a chorus made up entirely of opera specialists meant that the sound was much bigger and richer than I'd expect from such small forces, although they could perhaps have used one more soprano to balance the strong tenors and basses. In a performance that was marked throughout by a very dramatic approach, the sequence of penitential choruses at the beginning of Part Two stood out, and "All we like sheep" was absolutely thrilling, with the continuo instruments herding everyone relentlessly onwards until the final line, which was wracked with torment. Later in 'Lift up your heads', the chorus brought a real urgency to the text; this was good news that they were desperate to tell us.
The orchestra matched the chorus for drama and colour, with the violins frequently coming down to an exquisite pianissimo to great effect; there was a wonderfully delicate lead off into the fugal section of the overture, and tiny little echoes during the slow section of 'He was despised'. The violins led the change of mood in the choruses leading up to 'Hallelujah' – cheerfully busy in the duet and chorus version of 'How beautiful are their feet' and bursting with joy for 'Let us break their bonds'. The trumpets are always one of my Messiah highlights, and putting them up in the high altar for 'Glory to God', half-hidden behind gothic sculptures of angels with trumpets, was an inspired bit of staging, visually and acoustically.
Apart from the delightful additional chorus in 'How beautiful are their feet', most of the differences between Handel's 1742 Dublin version and what has become more or less standard lay in the solos (I apologise that we in the audience ruined the authenticity by standing for Hallelujah, since that didn't happen until King George heard it in London!). The loss of the furious alto version of 'Who may abide' that Handel reworked for the star castrato Guadagni, was compensated for hearing by bass Timothy Edmundson singing the original, much gentler version. Another Dublin aria produced one of the loveliest moments of the afternoon for me, in Rose Stachniewska's 'Rejoice Greatly'. This version is in a lilting 12/8 instead of the standard bouncy 4/4, and in the outer sections Stachniewska was fluid on the runs, giving it an easy, happy grace. In the central section about 'he is the righteous Saviour, and he shall speak peace unto the heathen', the mood became suddenly serious; this was not a confident statement about what the Saviour will do, but a prayer, full of yearning and hope for peace, and I found it very moving.
All eight soloists were excellent, with mezzo Rachel Lancaster and soprano Harim Oh both deserving praise as last minute replacements, with Oh singing a beautifully simple, unadorned 'I know that my redeemer liveth'. There were a few tuning problems among the solos, but I suspect that these, along with occasional difficulties in the orchestra, were caused by the extreme cold conditions in the chapel. Tenor Kenneth Reid set the tone with an authoritative 'Comfort ye' in which he spoke directly to the audience, with barely a glance at his score. Mezzo Carolyn Holt has a wonderfully dark, rich tone and she had clearly put a lot of thought into what she wanted her texts to say. She sang 'He was despised' with a smouldering hint of anger at the injustice of what Christ was suffering, and singing 'If God be for us' with rhetorical style: challenging us with the questions about grace and salvation before giving the clear answer that through Christ's death we are saved.
In a performance that was marked by expressivity and drama, Peter Keenan had one last surprise for us at the end. 'Blessing and Honour' was another thrilling ride, and then suddenly, the world stopped for the final 'Amen', soft, slow and incredibly beautiful, swelling just at the end to a final glow of glory, and bringing me to tears; Handel's great gift is that in the hands of those who look for it, Messiah, always has something new to say;