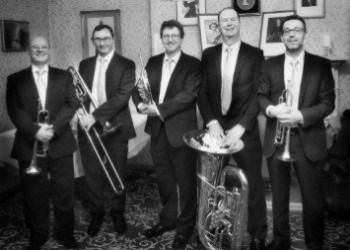 It's the end of the summer holidays, the diary is still empty enough for me to make spontaneous decisions about concerts, and as I was adding the listing for Prince Bishop's Brass to my events pages I remembered how much I enjoy hearing small brass ensembles, so off I went to Ushaw to hear them. I was very glad I did, because it was a most enjoyable concert, with well chosen repertoire and excellent playing.
The brass quintet is made up of two trumpets, French horn, trombone and tuba, and whilst it shares the same intimacy of any other chamber ensemble, the nature of the instruments means they produce a powerful sound: it's a combination that works particularly well in churches I think, where the audience can enjoy both proximity to the players and the effects of a big acoustic. This was the first time Prince Bishop's Brass have played in St Cuthbert's Chapel, and they were clearly enjoying the possibilities offered by this spectacular space, giving plenty of time and space for the sound to ping around the building.
After an attention-grabbing fanfare written by Paul Dukas for his ballet 'La Peri', the quintet turned to the renaissance and baroque for their first half. Early music allows for considerable flexibility with instrumentation, and pieces such as Giles Farnaby's Fanices, Toyes and Dreams and a four part Canzona by Giovanni Gabrieli allowed the group to bring out the softer textures of their instruments, calling to mind the mournful, solemn tones of the sackbuts that might also have played these pieces. Farnaby's Tell Me Daphnee and His Dream floated serenely through the air, showing the sensitive side of brass instruments that is often overlooked.  In Jeremiah Clarke's Suite in D Major, some of the players switched to percussion whilst trumpeters Chris Lewis and Derek Ruffell, playing piccolo trumpets moved out to the sides of the chapel to throw their nimble, dancing lines back and forth at each other. The suite ends with Clarke's greatest hit, The Prince of Denmark's March in an arrangement ending with exuberant trumpet ornamentation that fizzed around the building.
A piece listed on the programme simply as 'Fugue in G Min' by J.S. Bach turned out to be BWV578, and one of my absolute favourite Bach organ pieces, played here in an arrangement by Ronald Romm for Canadian Brass. The Prince Bishop's Brass danced through this joyful piece, colouring it with nice touches of light and shade, and with sustained trumpet trills lifting the mood even more.
After a surprisingly frothy and delicate performance of the Overture to The Marriage of Figaro, the quintet moved to a second half of more recent music, including one piece that was not an arrangement, but an original composition for brass quintet, the first movement of Victor Ewald's Quintet No.1. The composer had left his Russian fingerprints all over the score of this colourful piece, and it worked well in the programme as a pivot between Samuel Barber's sombre Adagio and three swinging Gershwin songs. It's easy to get very tired of the Barber adagio, but this brass arrangement made me hear it with fresh ears. The group balanced a need to keep the piece flowing forwards with an awareness of the space around them, and the sound of the brass instruments, particularly Chris Senior's lyrical horn playing, brought a new sense of emotion to the piece.
When I think of trumpets and Gershwin's Summertime, it's the languid Louis Armstrong and Ella Fitzgerald version that comes to mind, but this arrangement was a million miles from that. This snappy performance went with a lively swing, as did Love is here to stay and I got rhythm. Before a Count Baisie encore, the group closed with what is clearly their signature piece: Songs of Northumbria, a medley by Ray Chester of north-eastern folk songs. They explained that when they travel to other parts of the country, they have to introduce all the songs, but on home ground, they didn't feel that was necessary. This amateur North-easterner could only pick out the obvious ones (The Keel Row and Bobby Shafto), but it was a lot of fun, and full of character.