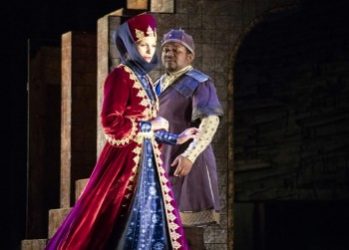 Even as a fully paid-up Handel opera fan, I'll admit that Radamisto wasn't one of his better efforts. The music is perfectly pleasant but apart from one or two good arias, it's a little bit Handel-by-numbers. It's not one for listening to on it's own, but cut down to a couple of hours, and staged in another of English Touring Opera's simple and beautiful productions, it made a very enjoyable evening.
The original story is drawn from Tacitus, and is set in Armenia sometime before the birth of Christ. Director James Conway kept English Touring Opera's version in its geographical setting but brought it forward a couple of centuries, to the time when Armenia was emerging as the first ever fully Christian kingdom. This didn't have much bearing on the opera itself, but it did create the opportunity for some sumptuous costumes of flowing kaftans, velvet robes and silk tunics, with a simple set that consisted of movable bits of masonry, becoming buildings or city walls, as required.
The story concerns a family split by marriage onto two warring sides: Radamisto, his wife Zenobia and his father Farasmane on one are besieged, pursued and captured by the tyrant Tiridate, who is married to Radamisto's long-suffering sister Polissena but lusts after Zenobia. Finally, there's Tiridate's henchman Tigrane, whose unrequited love for Polissena leads him to help her family.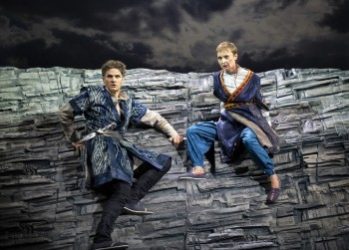 The most interesting pairing is that between Radamisto and Zenobia, unusual in opera for being a happily married couple, with a strong relationship that never falters, even though at times both think the other is dead. Katie Bray was a feisty Zenobia, full of spirit; a woman who seemed happier on the walls of the siege or climbing the cleverly constructed cliff at the back of the set than she did when dressed in stiff robes at Tiridate's court. She was capable of tenderness too though and there was a highly enjoyable aria where she flips back and forth between singing about her love for Radamisto and snarling at Tiridate, Bray's mood flicking back and forth effortlessly and taking the orchestra with her. Against her spark, her husband Radamisto, sung by counter-tenor William Towers, is a gentle, sometimes ineffectual character – he can't bring himself to kill her, so she makes a better attempt herself (spoiler, she survives). After Zenobia throws herself off a cliff, Radamisto gets the opera's biggest hit, the aria "Ombra caro", which Towers sang with a dark, mournful sweetness, enhanced by the plangency of Toby Carr's theorbo.
ETO regulars Grant Doyle and Andrew Slater were the two kings, respectively Tiridate and Farasmane: both are reliably excellent in whatever they sing. Doyle was commanding as the tyrant Tiridate with plenty of bite, whilst Slater was determined that although Farasmane was old and imprisoned, he was no victim, and lost none of his royalty, even when being kicked about by Tigrane. I enjoyed the seriousness that John-Colyn Gyeantey brought to Tigrane, his love for Polissena drives everything he does, even though he knows it will always be one-sided: Gyeantey's gentleness was a nice contrast to Doyle's lustful Tiridate.
I think the young soprano Ellie Laugharne was making her ETO debut as Polissena and she was a commanding presence on stage from the opera's opening aria through to the end when she helps to patch everything up. Polissena is perhaps the most complex character and Laugharne kept us guessing about whether Polissena stays with Tiridate out of genuine but misplaced love, or from duty. Handel never really gives us a full on rage aria in Radamisto, but Polissena comes close at times, and Laugharne was full of fire through her runs.
Another solidly reliably element of ETO's baroque seasons is the Old Street Band: Leo Duarte and Bethan White stood out here covering between oboe and flute between them and bringing lots of colour and sparkle to Handel's score. I'd been a bit disappointed the night before with some of ETO's triple bill (which I reviewed for Bachtrack – read here), but Radamisto made up for that in spades. I'm also delighted that for the last two year's ETO autumn visit has coincided with half term, which means I don't have to choose between choir practice and baroque opera – and I very much hope this continues. In the meantime, they're back in May with Verdi's Macbeth and Mozart's Idomeneo.