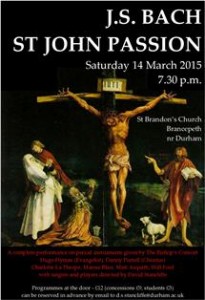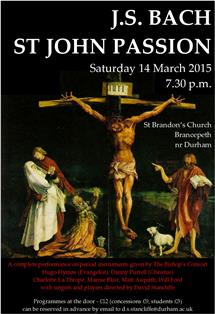 I'm indulging in Bach again. The weekend  before this, I went to the University Chamber Choir's B Minor Mass and next Sunday I'm singing two of Bach's motets in a concert with The Durham Singers. Sandwiched between them came the St John Passion, at Brancepeth church; this year's Lenten Bach fare from David Stancliffe and his Bishop's Consort. This review comes a bit late, because other things got in the way, and I didn't make any notes, so I'm stick to the things that still remain impressed on my mind three days later.
As is his usual practice, David Stancliffe assembled a crack team of present and recent student singers and an orchestra of experienced period instrument players, putting together a performance on minimal rehearsal. The result is a generally well-sung Passion although the overall effect is often rather dry – the choruses delivered with precision but without a great deal of emotion, and with occasional untidiness in the orchestra.
Every year in Durham one or two students stand out for their combination of excellent singing and incredibly hard work: one of this year's examples is undoubtedly alto Marnie Blair, who in the weeks before singing the two alto solos for the St John has somehow already fitted in a Cherubino, a Britten song-cycle and the B-Minor Mass solos. Last year it was Hugo Hymas and Charlotte La Thrope who seemed unstoppable, and it was lovely to see both of them back again for this St John.
Since I first heard Hugo Hymas sing the St John Evangelist, in David Stancliffe's Passion two years ago, he has developed and matured in his interpretation of the gospel narrator. Last time his beautiful singing was marred by over-acting and exaggerated facial expressions, but this time he seemed to have found the right balance, creating an Evangelist that was highly dramatic and full of life, and even if I hadn't been able to follow his very clearly enunciated German, I'd have known what he was singing about.
Among the smaller solo roles, I was absolutely entranced by Matt Asquith's Betrachte, meine Seele,  with Sam Stadlen playing viola da gamba – the pair created a moment of calm, suspended in time before the pain and flogging of Erwage that follows. Sam Stadlen wove more magic later, inspiring Marine Blair to a very moving Es ist vollbracht. Much as I love a good counter-tenor, I've often said that in my option Bach's great alto solos in the Passions are much better suited to a rich, velvety female voice and Marnie Blair demonstrated exactly why this is so.